Transmission
Find what's right for your vehicle
Enter your registration number and we'll only show you appropriate products.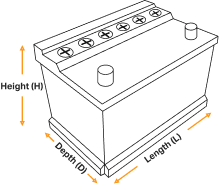 Check which battery is right for my car
Clutch & Associated Parts
Transmission Parts
Help & Advice
The transmission system in your provides the power to the wheels to keep you moving forward (or backwards if you're in reverse!). It starts with your gearbox and includes the clutch kits , flywheel and driveshaft . These hardwearing parts take some punishment on the road and can wear out after thousands of miles on the road.
Driving with a dodgy or damaged transmission system is dangerous for you and your passengers, so sort problems as soon as they appear. At Halfords, we stock a huge range of transmission spares and replacement parts from leading brands.
It can be hard to select the right part, so we've made it easy for you with our car parts selector. Enter your registration number and you'll see the parts displayed that will fit your car. If you need some help or would like to chat with an expert, drop in to your local Halfords store to speak to one of our trained staff.