Find what's right for your vehicle
Enter your registration number and we'll only show you appropriate products.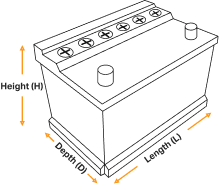 Check which battery is right for my car
Your car's clutch is one of the most important elements and is in use as soon as your engine is turned on. It's responsible for turning the engine's power into motion and allows you to shift between gears smoothly. As a result,your car's clutch must be looked after to perform well. That's why at Halfords we offer a great selection of clutch kits for all car makes and models from small family hatchbacks to sports cars.
A new clutch kit features all the key elements to a car's clutch, including clutch disk, pressure plate, flywheel, throw race or release bearings, all of which can improve the performance of your vehicle. You'll also save money with a clutch kit, as it works out cheaper than buying all the parts separately. Not all clutch kits are the same, so finding the correct kit for your car is important. Choose between the best reputable brands, such as a Sachs or LuK clutch kit. Enter your vehicle reg number into the tool provided to see all the products we stock that are suitable for your car.
Clutch parts from Halfords
If you know one exact part you need, then you can order these separately on our clutch parts page. On the other hand, if you're stuck on what's wrong with your clutch, you can book in for a free clutch inspection with one of our helpful team members.
Once you've found the products that you need, use our convenient click & collect service to get hold of your products sooner, or opt for delivery if you'd prefer to have your new products delivered to your home or work address. There's free next day delivery on orders over £20. If you need more help choosing the correct products, head down to your local Halfords store where one of our colleagues will be happy to help you out.