Find what's right for your vehicle
Enter your registration number and we'll only show you appropriate products.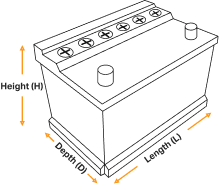 Check which battery is right for my car
Brake Pad Information
What are brake pads?
Brake pads are a common component of modern disc braking systems. When you push your foot on the pedal, the brake caliper pushes the brake pad against the brake disc, reducing the speed of your car.
When to change brake pads
Over time, your brake pads can wear away, reducing your braking efficiency. If left too long, your pads may stop working altogether, so checking them regularly and replacing them when necessary, is important. Brake pads should be changed across the axle, not just at one wheel as the braking system is a safety critical system. Changing the pads on one wheel can lead to vehicle instability under braking. We can provide a free 6 point brake inspection at our Autocentres if you're unsure of whether they need to be changed. Some vehicles may require brake shoes rather than pads, which we can also supply.
How long do brake pads last?
Car manufacturers suggest that brake pads last between 30,000 to 70,000 miles. How long brake pads last is dependent on the type of brake pads, your driving habits including where you drive, and the state of the brake rotors and calipers.
How many brake pads does a car have?
The number of brake pads a car has depends on the vehicle make and model, including the type of braking system it utilises. A typical car will have a pair of brake pads per wheel.
Where to buy brake pads replacement
Online you'll find a massive range of front and rear brake pads for all makes and models of vehicle at Halfords. It's easy to identify the right replacement brake pads by using our car parts finder tool. Enter your registration number and the tool will show you the right front and rear brake pads for your car.
How to check brake pads
We also sell brake pad wear sensors that will check the condition of your brake pads. If they begin to get too low, the sensors will alert you so that you can take action.
Brake pad replacement
Replacing brake pads is a simple enough job for the home mechanic. Order online and you'll have the parts you need quickly, with free delivery over £20. You can also use our Click and Collect service and have your new pads sent to your nearest Halfords store. If you're looking for a safe and professional fitting service, head down to your local Halfords Garage today.