Find what's right for your vehicle
Enter your registration number and we'll only show you appropriate products.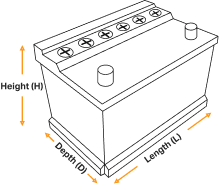 Check which battery is right for my car
If you drive a car of any kind, the brake pads are one of its key components. Keeping them in good condition is essential for your safety and that of your passengers and other road users. It's vital to get your brakes checked regularly—and to prioritise brake pad replacement at the first sign of a problem.
How do brake pads work?
A typical car's braking system consists of a pair of brake pads, a brake disc, and a brake caliper on each wheel. The brake pads are flat components comprised of a ceramic or semi-metallic surface material bonded to a metal body.
The brake pads fit into the caliper, with their friction-resistant surface almost touching the two sides of the brake disc. When the driver presses the brake pedal, this causes hydraulic fluid in the caliper to push the brake pads against each side of the rotating brake disc. The resulting pressure and friction cause the vehicle to slow down then come to a safe, controlled stop. That explains why your brake pads need to be checked regularly.
How long do brake pads last?
Brake pads are designed to survive thousands of miles of constant use. Most car manufacturers say pads should last between 30,000 and 70,000 miles. However, these figures are purely for guidance and subject to variables such as driving habits. It's never safe to assume your brake pads are fine just because the car's mileage is below a certain number.
How do you know when brake pads need replacing?
All brake pads will eventually start to fail as the surface material wears away. Fortunately, with most brake pads there are clear signs for the driver that the pads are becoming worn. These signs include loud high-pitched squealing noises when braking.
There may also be a grinding noise, perhaps with vibration your foot can feel through the pedal. In fact, many brake pads are designed to indicate wear by making a noise when the pads press against the brake disc, so grinding should never be ignored.
Which type of brake pads should I buy?
There are different varieties of brake pads and particular types are recommended for certain vehicle marques and models. Always check your user's manual before replacing any components, including brake pads, and carefully follow the manufacturer's instructions.
Alternatively, simply enter your car's registration above and Halfords will take you straight to the appropriate products.
How can you be sure it's the brake pads that need replacing?
The brake pads are just one component within the car's complex braking system. For the full facts, read this Halfords article on how to tell if your brakes need replacing.
If your car's braking performance has changed, you're feeling vibration, or hearing an unusual noise, the problem may be caused by any of the braking system components or by a combination of factors. Other signs to look out for include:
Leaks of fluid on the inner wheels
Pulling to one side when braking
The brake pedal sinking to the floor
A warning light showing on the dashboard
Remember, the simplest way to diagnose any fault is to request a free brake check at your local Halfords Autocentre.
---
Brake Pads FAQs
Brake pads are a common component of modern disc braking systems. When you push your foot on the pedal, the brake caliper pushes the brake pad against the brake disc, reducing the speed of your car.
Brake pads vary in price depending on the make and model of your car and the quality of the product.
Yes. A brake check is an integral part of every MOT test or service we conduct. However, it's also simple to do your own brake check. If you notice a problem, you can either order the brake pads and other parts you need from Halfords online and replace them at home or contact your local autocentre.
Many factors can shorten the lifespan of brake pads, including the weight of the car, the mileage, and the way the vehicle is driven.
Yes, all parts for all the major car makes and models are available online from Halfords. For example, Vauxhall components are in stock here. See our car parts catalogue for a full list of brands including Ford, Audi, Mercedes and BMW just enter your registration and we'll do the rest.
Simply use our registration look-up tool. We'll almost certainly have the part you need.
You can. At Halfords, we've been supplying DIY mechanics with everything they need to fix their cars for over 100 years. However, if you're unsure of your DIY skills, our expert technicians are always on hand at your local Halfords Autocentre.
Replacing brake pads is a simple enough job for the home mechanic. Order online and you'll have the parts you need quickly, with free delivery over £20. You can also use our Click and Collect service and have your new pads sent to your nearest Halfords store. If you're looking for a safe and professional fitting service, head down to your local Halfords Garage today.