Camping Help and Advice Hub
Get the answers to your camping queries right here with our handy camping help and advice hub.
Whether you want tips for camping with kids, ideas for family camping meals or discover the best camping must-haves, you've come to the right place. We cover a range of camping topics in our expert advice articles and buyer's guides to help you stay clued up on all things camping!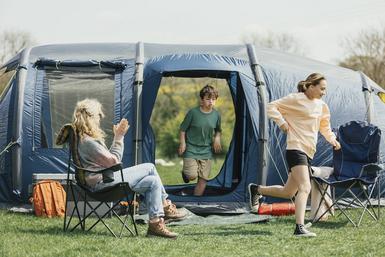 The Halfords portable gas stove and similar-style stoves, all require the use of a screw-in cartridge called a CP250 or A4. This refers to a specification of design of the can and the thread, as well as holding 220g of a propane/butane mix.
It fits into the stove on the right-hand side by lifting back the panelon the unit, nozzle first, and screwing in when it gets to the attachment.The CV300/470/500 cartridges are designed to be free-standing, with a screw-on burner which fits on top to create a self-contained unit. Depending on your requirements, the bigger burners will use more gas to cook at full blast, but will produce more heat and cook faster.
It is possible however to fit these kind of canisters to the full-sized stoves by using a special regulator designed for use with CV canisters, unfortunately not stocked by Halfords at this time. However, please bear in mind that with all of the burners in operation, even the CV500 canister is unlikely to last more than an hour.
The Campingaz 907 cylinders are supplied empty from Halfords, due to strict laws regarding the securing and storage of full cylinders. You'd then need to take the canister to a camping store or somewhere like a DIY store to replace it with a full cylinder ready for use. These are designed only to be used with full-size camping stoves, and need the use of a regulator to fit it to the stove.
Air poles should be inflated to 7psi maximum. Halfords inflatable tents provide an extremely easy and strong way of supporting a tent. The 'poles' should not be inflated to any more than 7 psi/0.48 bar. Using the pump which comes with the tent, there is a blow-off valve which will automatically vent any extra air away from the tent pole valve once it reaches the required air pressure. Due to the design of the valve, it's not possible to use a digital tyre inflator as it won't fit onto the vent.
View all