Halfords Sat Nav Installation Service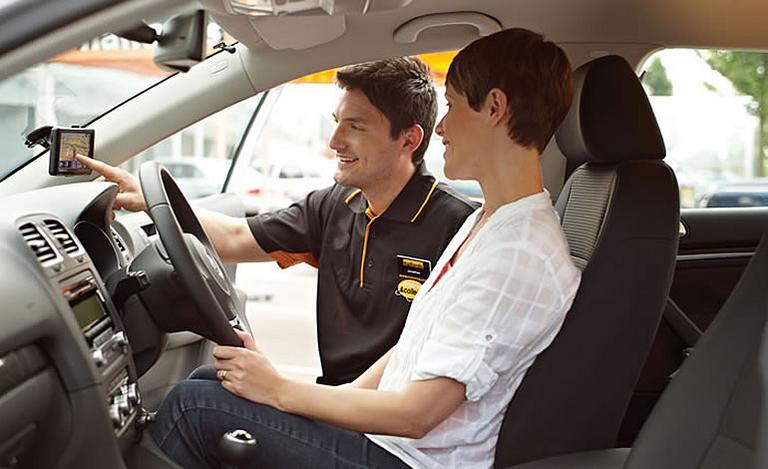 Getting you from A to B without the hassle of having to stop and look at a map at every wrong turn, sat navs have revolutionised the way we drive, making life easier for journey both long and short. Although they're very common and relatively easy to set up out of the box, there are a few disadvantages; namely the wire trailing across your dash board or a lack of battery if you leave your charger at home.
If you're constantly running out of juice at the vital moment or are tired of catching the cable every time you change gear, then getting your sat nav hardwired into your car might be the best option.
How does sat nav fitting work?
After you've bought your new sat nav or brought your current one into your local Halfords, we'll check your car to make sure it's safe to get your sat nav hardwired to your car's power supply using an adaptor. Once that's done, we'll make sure you're happy with the positioning of the sat nav, then fit a cable from the sat nav around the dashboard and any trims, straight into your vehicle's power supply.
We don't need to dismantle your car's interior or make any permanent changes and our sat nav fitters are all trained experts, so both your vehicle and your sat nav will be in good hands.
Can I still remove my sat nav?
Yes, you'll still be able to remove your sat nav from the vehicle and use it in another car / store it securely. The only component that can't be removed easily is the hardwired cable, so you just need to disconnect your sat nav from this first. You can also remove the holder from windscreen, so just remember where you had it for easy re-fitting next time!
How much does sat nav hardwire fitting cost?
Sat nav hardwiring costs £35/€41 and gives you:
A constant power supply - no running out of battery at that junction!
No wires to get in your way
Professional installation for a neat and tidy finish
How can I get my sat nav hardwired?
If a hardwired sat nav sounds appealing, then remember to select 'add fitting' at the online checkout and select a convenient appointment if you're buying a new one. We'll then hardwire your sat nav when you come into pick it up. Just remember to bring the right vehicle!
If you aren't sure which sat nav to go for, then start with our Sat Nav Buyer's Guide or ask for a demo in-store.
If you've already got a sat nav, then simply head to your local Halfords and ask if we're able to fit it.
Shop sat navs
Please note, we will only fit Sat Navs purchased from Halfords.
Due to safety reasons, we are currently only able to carry out interior car fitting on vehicles that have an Air Re-circulation System. This includes air conditioning systems, heaters or air vents. If you are unsure whether your vehicle meets this criteria, please speak to one of our experts.