Find what's right for your vehicle
Enter your registration number and we'll only show you appropriate products.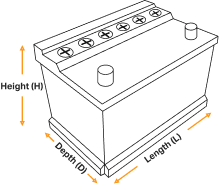 Check which battery is right for my car
About our oil filters
It's a dirty job keeping engine oil clean, but someone has to do it. Your car's oil filter collects dirt, grime and debris that can build up in your engine oil, stopping it from clogging up the crucial moving parts in your engine. A new engine oil filter should form part of any major or minor service, and should always be replaced if you're dropping the oil. They're affordable, easy to fix and simple to buy with Halfords.
What oil filter do I need?
Engine oil filters come in the same shape, but all different sizes.. It's easy to find the right part for your car with our parts selector. Enter your registration or some details about your car and it will display the parts you need. We stock replacement oil filters from leading brands like Bosch and Mann that will deliver consistent performance.
Order your engine oil filter online
Our range of engine oil filters is part of our extensive selection of car spares and service. You'll find everything you need for any service, repair or restoration online with Halfords. Select and buy your car parts online, or get them delivered to your local Halfords store and collect the next day!
As well as engine oil filters, we've got a selection of premium engine oils for all cars and vans. A new filter should always be fitted when you replace your oil to ensure better performance and a longer life for your engine.