Firestone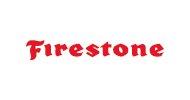 The Firestone name has been around since the turn of the 20th Century and is strongly linked with The Indy 500 because of its high-performance tyres. Firestone produces innovative and durable tyres for passenger cars and SUVs. Browse our full collection of Firestone tyres and don't forget to book in your free fitting once you've chosen the right model for your car.
Find Firestone Tyre's suitable for your car
Enter your registration number and we'll only show you appropriate products.
Find tyres by Vehicle Registration Number
Sorry your vehicle has not been found, please enter a valid registration number.
Service is not available right now. Please try again later.