Find what's right for your vehicle
Enter your registration number and we'll only show you appropriate products.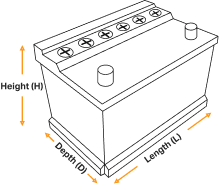 Check which battery is right for my car
Brake Disc Information
Brake Disc Replacement
Your car's brake discs withstand a lot of pressure, which means that they can wear out over time. This can cause an annoying squealing sound or, in more worrying circumstances, feel your car pull to one side. This can occur when a brake caliper has seized or locked in position. Warping and grinding of discs can lead to a pulsating brake pedal feel, which are common signs of brake disc wear. Find out more about brake discs so you can be prepared if you need a replacement.
What is a brake disc?
Brake discs are crucial for bringing your vehicle to a halt, which is why it's important that they are working efficiently. During braking, friction occurs between the brake pads and the brake disc, which allows speed to reduce.
What are brake discs made of?
Most brake discs are made of cast iron since they must be able to withstand mechanical stress, forces at high speeds and thermal loads.However, they can also be made of ceramic material.
How long do brake discs last?
Your car brake discs should be checked every 10,000 miles but will usually need replacing after around 25,000-30,000miles on average. It is important to make yourself aware of the warning signs for how to tell if brake discs need replacing. It's also important to note that you should always replace brake pads when you replace your brake discs. Some vehicles use brake drums rather than disc braking systems. Speak to one of our colleagues and we can supply the relevant option for your vehicle.
A brake check is part of any MOT or service but is simple enough to do at home and if you notice any problems, replacing worn-out brake discs and other brake parts like pads is simple enough for the home mechanic.
Where to buy brake discs
If your car has worn or rusty brake discs, you will need to buy replacements as soon as possible. At Halfords, we carry a huge range of discs and pads for all vehicles, including Bosch, Eicher and Pagid brake discs. If you're replacing your brake discs, it's worthwhile replacing your brake pads at the same time to ensure your brakes are performing perfectly before you set off.
Our car parts finder makes selecting the right disc pads simple. Enter your registration and you'll see only the right discs for your vehicle. You can buy online and have your parts delivered to you for free if you spend over £20, or use our Click and Collect service to have the parts delivered to your local Halfords store. If you're looking for a safe and professional fitting service for your new brake discs then head down to your local Autocentre today.