Puncture Prevention - Kids Bikes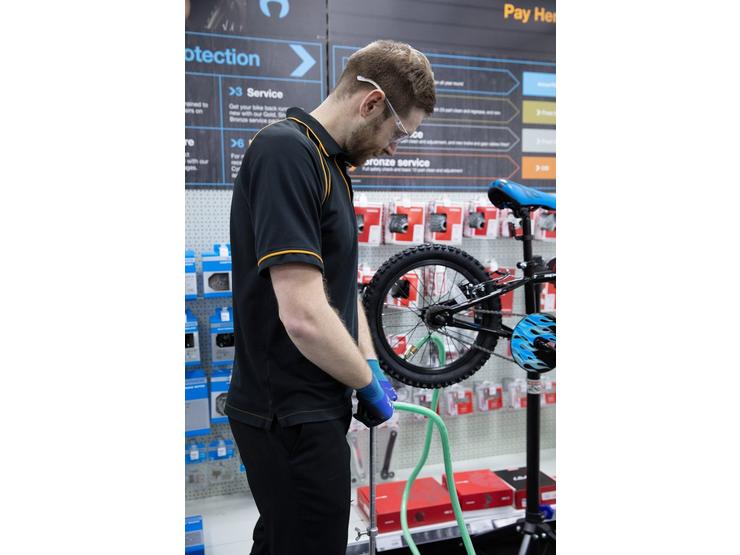 10 people are viewing now
5 purchases during last 48 hours
Puncture Prevention - Kids Bikes
Slime bike tyre sealant

for your Kids Bike
Suitable for bikes with Schrader style valves only
One £10/€12 charge covers both tyres on your bike
Puncture Prevention Service for Kids Bikes
High-quality Slime bike tyre sealant

Will not dry out or harden over time

Environmentally friendly, non-toxic
Comes with a 2 year warranty

One £10/€12 charge will cover both wheels of your bike

Say goodbye to flat bike tyres - book today!
*This service is not suitable for Presta style valves. If you have any further questions about our puncture prevention service, you can visit our experts in store.
A Fantastic Solution
Halfords' Puncture Prevention Service uses a high-quality Slime bike tube sealant, which is a fantastic solution for all those annoying flat tyres.
Whether you're biking on the road, down the mountain or in the park, the sealant will remain as a liquid inside your tyre, not hardening or drying out over time.
As this service is only for Schrader valves, if you have a bike with Presta valves, you can purchase pre-filled Slime inner tubes that we can fit for you for just £10/€12.
Environmentally Friendly
Environmentally friendly and non-toxic, our experts will simply fill your inner tube with the Slime bike tube sealant, coating the tread area of your tyre as it rotates whilst you're cycling.
Slime Bike products are safe for both the user, tyre and the environment - as solidified by Slime's Green Promise.
How It Works
Slime makes inner tubes extra strong because the powerful, puncture preventing Slime acts as a sealant inside.
When a puncture occurs, the escaping air pressure forces Slime into the hole, instantly repairing tread area punctures up to 3mm. Seals multiple punctures repeatedly for up to 2 years. We recommend that you use a bike pump to get your tyres back up to their recommended pressure levels.
Say goodbye to flat bike tyres!
Helping Cyclists for 30 years
Slime Bike Tyre Sealant first began by being blended by hand on the Central Coast of California in the late 80's. As the location of the Slime factory was so close to local mountain bike trails, the nickname for the "green slimy stuff" stuck and was a huge success, used by all cyclists in the area.
Thirty years later, Slime Bike products are used across the world in over 36 countries, being crowned as the most widely distributed tyre sealant globally.
Cycling Servicing at Halfords
If you want or need other work completed on your bike, visit our Cycling Services page to see what else we can offer you.
From our Free Bike Health Check to a range of bike servicing, we want to help keep your bike in tip-top condition.
Keeping you and your bike on the move has never been easier!