Exhaust Parts
Find what's right for your vehicle
Enter your registration number and we'll only show you appropriate products.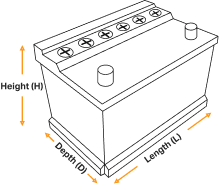 Check which battery is right for my car
Exhaust Parts
Help & Advice
Exhaust Repair
Your car exhaust system works hard to protect the air and the environment from dangerous emissions. At Halfords, we have car exhaust parts, including premium parts, clamps and gaskets, and other accessories. If you have a small hole or crack in your exhaust, then read our tips to repair an exhaust at home.
We also supply quality car parts to match the original manufacturer's equipment , including DPF sensors, diesel particulate filters, catalytic converters and Lambda sensors. Our car parts finder makes it simple to narrow down your search. Enter your registration number and you'll only see parts that will fit your make and model of car. Choose from brands such as Klarius, React and many more.
Buy Car Parts Online
Everything you can see can be purchased online to your home address with free next day delivery on order over £20, or delivered the next day to your local Halfords store with our Click and Collect service. As well as selling everything you need for your car, we can fit it too. If you're looking for a safe and professional fitting service, head down to your local Autocentre today.