Find what's right for your vehicle
Enter your registration number and we'll only show you appropriate products.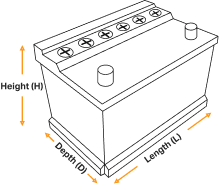 Check which battery is right for my car
What is a DPF sensor?
Your DPF sensor is a crucial part of your exhaust system. It monitors the levels of soot emitted by your engine. A working DPF differential pressure sensor ensures your exhaust is working well, keeping you and the planet healthy.
DPF pressure sensor symptoms
You'll know if your DPF sensor stops working as you'll see a warning light on your dashboard, so don't ignore it. A faulty DPF sensor not only means trouble for your car, but it will also impact your chances of getting an MOT and make it difficult to sell. At Halfords, we've got replacement DPFs for most makes and models of car in stock and ready to fit.
Order a DPF pressure sensor from Halfords
Selecting the right DPF is easy with our car parts finder tool. Select your vehicle from the menu or enter your registration and it will display the right replacement diesel particulate sensor for you. All of our car parts are available to buy online, with free delivery when you spend over £20. If you'd prefer to collect your spares, then use our Click & Collect service to have your parts ready to collect at your local Halfords store.