If you're looking for top quality, professional standard tools, then a Halfords Advanced Socket Set is the answer.
What is a socket set?
A socket set is simply a collection of socket wrenches and other essential tools needed to perform maintenance and construction work. For example, you may need to tighten certain nuts and bolts on your car engine, and for that you'll need the right socket wrenches to fit your fasteners.
Manufactured from high-grade alloy steel, we're happy to offer a lifetime guarantee because we know that our tools are made to last. All Advanced socket sets include our new 100 tooth ratchets. Strong but super fine teeth allow it to turn in just 3.6 degrees of movement – perfect for working in tight spaces.
Halfords socket set spanners
The spanners in these sets come with Surface Drive Plus. You can see here how the sides curve inward slightly compared to a normal spanner which has straight sides. This delivers up to 28% more torque before rounding.
All of the sockets are 6 sided to make sure you get the best possible grip with less chance of rounding. The Hex and Torx bits come in short and long reach for those awkward to reach bolts. Their thick shank stops them from breaking when you need them most.
Halfords 100 piece socket set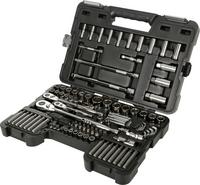 The sets start with the 100 piece socket set, which is a comprehensive socket and ratchet set. The set includes sockets in ¼", 3/8" and ½" drives, ranging from 4mm to 27mm in standard depth, and from 5mm to 14mm in deep sockets. There are Hex and security Torx bits to cover most popular styles of fixings, as well as a range of extension bars and adaptors for easier access.
Shop 100 piece socket sets
Halfords 150 piece socket set
The 150 piece set has all of the benefits of the 100 piece set, but includes a full set of combination spanners from 6 to 19mm. It also comes with an 18" breaker bar for the bigger, tighter stuff, and the added bonus of a range of spline bits.
Shop 150 piece socket sets
Halfords 175 piece socket set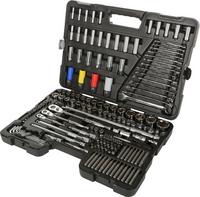 In addition to the great contents of the previous sets, the 175 piece set has a wider range of sockets. This means you get a range of deep 3/8" drive sockets, and ½" drive sockets up to 36mm. The set also comes with a range of nylon coated impact sockets to protect those alloy wheels.
Shop 175 piece socket sets
Halfords 200 piece socket set
Our largest socket set in the range, the 200 piece, is our best seller. Not only do you get all of the fantastic tools seen previously, this one upgrades the spanners to 72 tooth ratchet spanners. The universal joints are pinless to give a smooth 360 degree movement, a full range of deep ½" sockets are included up to 27mm and you get a set of E-Torx sockets in 3/8th drive.
Shop 200 piece socket set
One premium feature of our advanced socket sets is the ratchet spanner adaptors which allow you to turn your ratchet spanners into a slimline ratchet driver for those jobs where nothing else will fit.
All of these Halfords Advanced socket sets come in sturdy blow mould cases, with large metal latches to give you confidence that the pieces won't fall out when you're carrying it. There's even a recess in the case so you can secure it with a small lock and make sure no-one borrows anything.
Shop all socket sets
Introducing the Halfords Motoring Club
At Halfords, we're here to get you from A to B while saving money in the process. Join the Halfords Motoring Club today to access a range of amazing benefits and discounts that are designed to keep you moving, keep you safe and keep you saving.
It's free to join and you'll receive money off your MOT, a free car health check and a welcome voucher that can be spent on any Halfords product or service.
Or choose our Premium membership for a small monthly fee (or a one-off payment) to unlock exclusive member pricing on all motoring products and services online and across our stores, garages and Halfords Mobile Experts, as well as a variety of other benefits that will help you to keep moving for less.
With so much to enjoy, this is too good an opportunity to miss!
Join the Halfords Motoring Club today at www.halfords.com/motoring-club.
Join the Halfords Motoring Club