Find what's right for your vehicle
Enter your registration number and we'll only show you appropriate products.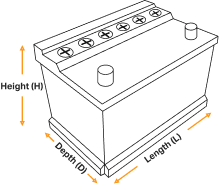 Check which battery is right for my car
Fuel Filter Information
What is a fuel filter?
Car fuel filters play an important job in protecting engines. These tiny parts catch any dirt or debris in your fuel, stopping it from entering the combustion chamber where it could damage your engine. Petrol fuel filters and diesel fuel filters do exactly the same job and work in the same way.
Where is the fuel filter located?
The fuel filter is commonly found between the fuel tank and the engine. This is called an inline fuel filter because it is between the two, making it inline with the fuel system. In some vehicles, the fuel filter is found on or inside the fuel tank. You could check your car's manual to locate your vehicle's fuel filter.
Bad fuel filter symptoms
Over time, debris that the filter catches can build up and cause a blockage. If you have a clogged fuel filter, signs you need to change your fuel filter include difficulty starting your car, sputtering, issues accelerating, stalling or misfiring.
How often to change a fuel filter?
When to get a filter change depends on your car. In the past, it was recommended to change your fuel filter after around 30,000 miles, but improvements in today's vehicles means they can last up to 60,000 miles. This means that the older the vehicle, the more likely you will have to change your fuel filter.
Fuel filter replacement
Completing a fuel filter change is a simple job and is an essential part of any minor or major service. It's pretty easy to do with the right parts and the right tools. Our car parts selector tool makes choosing a replacement filter simple. Just add your registration and you'll see a selection of high-quality car parts that will be straight replacements for your current filter. You can find the entire range of fuel filters online.
Buy fuel filters from Halfords
Order online and enjoy free delivery when you spend over £20. You can also take advantage of our Click and Collect service to have your fuel filter delivered to your nearest Halfords store. Buy it today and you'll be able to collect it tomorrow. We've been helping drivers to care for their cars and enjoy trouble-free trips for over 100 years.