Engine Parts
Find what's right for your vehicle
Enter your registration number and we'll only show you appropriate products.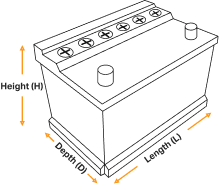 Check which battery is right for my car
Belts, Chains & Tensioners
Engine Parts
Fuel & Engine Management
Your engine is the beating heart of your car. Working together, hundreds of parts provide the power that keeps you on the road. When one of those parts fails, then we're there to help. Search online and you'll discover an incredible range of engine spares,
car parts and service essentials
in stock. Our online parts finder make choosing the right parts simple. Just enter your registration number or find your car from the dropdown list and you'll see the parts you need. Ordering is easy too, with free home delivery when you spend over £40. Want them tomorrow? Our Click & Collect service will have your parts package at your
Halfords store
as quickly as possible. We've helped millions of drivers to keep their cars on the road. Your engine might misfire and falter sometimes, but we don't. You'll always be able to find the parts you need at Halfords 24 hours a day, 7 days a week. We're here for the journey ahead.