Find what's right for your vehicle
Enter your registration number and we'll only show you appropriate products.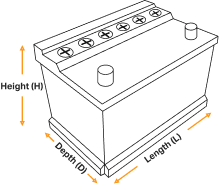 Check which battery is right for my car
Gaskets and seals are designed to prevent leaks that can damage your car's performance. Depending on the age of your car, the gasket will either be made of cork, thin metal or carbon - the latter being a popular choice for new cars. A head gasket has the important job of preventing liquid from entering the engine block and cylinder head, also preventing oil from escaping the crankcase. When it comes to the seals, these can be found between the rotating engine parts and are made of high-grade flexible rubber, and are capable of withstanding extreme temperatures. The two most important seals are located at either end of the crankshaft, connecting to the flywheel. Though a relatively small component, they are responsible for retaining oil, preventing dirt from entering the engine and allow your engine runs smoothly and efficiently.
As with all important engine components, gaskets and seals are subject to wear and tear as your vehicle clocks up miles. If diagnosed early, a blown gasket is relatively inexpensive and straightforward to replace, but if left faulty for a long time - have the potential to cause serious damage to your car's engine. This also applies to the engine seals, which can cause oil, fuel or exhaust gas leakage if faulty. Engine seals should be checked regularly to ensure they are working correctly and haven't worn out, and as professionals, we recommend that you replace your engine seals when you carry out any routine overhaul.
At Halfords, we have a huge range of engine gaskets and car seals for all car makes and models. To find yours, simply enter your vehicle registration number into the VRM tool and we'll match your vehicle with appropriate car and engine parts. And once you've found the correct products, use our convenient click & collect service to get hold of your new products sooner. Or, opt for delivery if you'd prefer to have them delivered to your home or work address. Still unsure about which products to choose? Head down to your local Halfords store where one of our team will be happy to assist you!