Engine Control Unit (ECU)
Find what's right for your vehicle
Enter your registration number and we'll only show you appropriate products.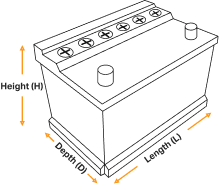 Check which battery is right for my car
The ECU is a complex internal computer which constantly monitors and reacts to any changes that happen within you car's system. It controls everything from the wheel speed and braking power, to ignition times, idle speed and the mix of fuel and air. Put simply, the ECU ensures almost all elements of your car are aligned and working as they should. A fully-working ECU also improves your car's performance, as well as your car's cost-efficiency. It does this with help from the oxygen sensors, which inform the ECU if your car is running too rich or too lean. This information is important for ensuring your vehicle uses the correct amount of fuel, preventing your engine from starving itself, alternatively, fuel waste.
As with all car parts and electronic components, the ECU can breakdown. A faulty electronic control unit can cause inaccurate braking, engine stalling, overheating or freezing. Either of these faults can lead to fuel waste, or worse, loss of control at the wheel. Therefore, you must repair or replace a faulty ECU unit as soon as you detect an issue.
Every engine is optimised differently, so finding an ECU that is compatible with your car is key. To help you, enter your vehicle registration number into the tool provided and our system will do the rest, pulling relevant products suited to your car make and model. Once you've found the products you require, use our convenient click & collect service to get hold of them sooner, or, opt for delivery if you'd prefer to receive them at home. If you're still unsure which products to choose, head down to your local Halfords store where one of our colleagues will be happy to assist you. Also, your local Autocentres garage will be able to carry out ECU testing and ECU repairs, just locate your closest store and pay them a visit.