Find what's right for your vehicle
Enter your registration number and we'll only show you appropriate products.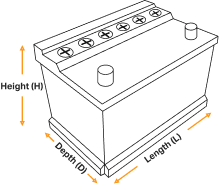 Check which battery is right for my car
Modern cars are complex things, packed full of new technology. At the heart of your car's protection is its engine management system. Your car's EMS constantly monitors the systems that keep you moving and keep you safe - including the ABS, engine performance and emissions. When the light goes on, plug in a diagnostic kit and it will tell you what's wrong.
Your EMS is a crucial component of your car, and if it goes wrong, it needs urgent attention. At Halfords, we stock engine management systems and parts for all makes and model of cars. It's easy to identify the EMS spares you need with our car parts finder. Enter your registration number or some basic details of your car and you'll see the EMS parts you need.
You can shop the entire range of EMS parts online. Or use our Click and Collect service and have your parts delivered to your choice of Halfords store. While you're there, check out our range of engine essentials, including a massive range of engine oil.