Fuel Pumps & Parts
A fuel pump ensures your vehicle's engine receives fuel at the correct pressure. Another key car component is the fuel tank sender unit which allows you to see fuel levels through the gauge. If you need replacement parts for a fuel pump or fuel tank sender unit, then check out our range at Halfords.
Find what's right for your vehicle
Enter your registration number and we'll only show you appropriate products.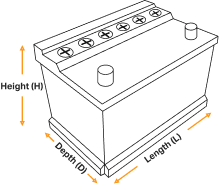 Check which battery is right for my car
What is a fuel pump?
Your vehicle's fuel pump delivers the right amount of fuel to the engine at the necessary pressure. There are both mechanical pumps, mostly found in older cars, and electric fuel pumps, which are mounted in the fuel tank.
Fuel Pump Symptoms
Faulty fuel pump symptoms include:
Loud whining noise from the fuel tank.
Sputtering engine.
Difficulty starting the vehicle from lack of pressure.
A broken fuel pump can deliver too little or too much fuel, causing problems for your vehicle. If you need a fuel pump replacement, Halfords can help.
Fuel tank sender unit
The fuel tank sender unit ensures you can see how much fuel is available in your tank. By using a float and sensor mechanism, your fuel gauge will show a decrease in fuel as the float sinks.
If you have an issue with your fuel tank sender, this will be easy to notice based on when you fill up your car with fuel. You might notice that the fuel gauge is staying on 'full' constantly or it's reading as empty even though there is fuel in the tank. It is dangerous to drive with a faulty fuel tank sender unit as you won't know when you're about to run out of fuel.
Find the right car parts for your vehicle by entering your vehicle registration number on our website. When you've found the car parts you need, choose between home delivery or our easy click and collect service at your local store.