Find what's right for your vehicle
Enter your registration number and we'll only show you appropriate products.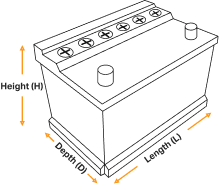 Check which battery is right for my car
Drive Belt Information
What is a drive belt?
Your car's drive belt is an integral part of the engine, driving almost all of the fundamental car engine parts. The drive belt itself is made from rubber and has the job of operating multiple mechanical parts at once. The taut belt that wraps around the pulleys attached to the crankshaft is responsible for keeping your car's steering, alternator, water pumps and air conditioning in working order. As well as helping to drive all of the above, a high-quality alternator belt will cause less friction and improve the performance of your car.
Do I need a drive belt replacement?
Despite being a highly durable material, excessive heat and pressure can cause the drive belt to deteriorate over time. As professionals, we recommend that you replace your car's drive belt every 45,000 to 70,000 miles. One of the most common signs that your alternator belt needs replacing is a squeaking or chirping noise coming from the engine. If left alone while faulty, this could cause your engine to overheat and potentially break down.
Where to buy an alternator belt
Need a drive belt replacement? Well, within our range you'll find a great selection of alternator belts to suit all car makes and models, simply enter your vehicle registration number into the tool provided and our system will pull relevant products suitable for your car. Once you've found the products you need, use our convenient click & collect service to get hold of them quicker, or opt for delivery if you'd prefer to have them delivered to your home or work address. Still unsure which products to choose? Head down to your local Halfords store where one of our colleagues will be happy to help you out.