Find what's right for your vehicle
Enter your registration number and we'll only show you appropriate products.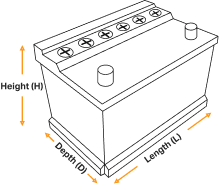 Check which battery is right for my car
The timing chain is found in a car's engine and works to synchronise various parts in the engine so that they're working in harmony. This chain ensures there is a perfect rotation of the crankshaft and camshaft. This is why if you have a problem with your timing chain, you're likely to notice as the pistons and valves won't be working properly.
Timing chain vs timing belt
Your car will be equipped with either a timing chain or timing belt. These two components have the same responsibility in a car's engine - to synchronise movement. The difference between the two is the materials they are composed of; the timing belt is made of rubber, whereas the chain is metal.
If you're looking for timing belts then you can visit our Timing Belts page to find suitable products for your vehicle.
When does a timing chain need to be replaced?
A timing chain on a car is a sturdy component that usually only needs replacing after 80,000-120,000 miles. Warning signs that you need a timing chain replacement include noises coming from the engine such as rattling, whirring or buzzing. Your vehicle might struggle to start, the engine might misfire or your engine light might alert you of a problem.
Timing Chain Replacement
If you need a timing chain replacement, simply enter your registration number to see items that will fit your make and model of vehicle. Once you've found the timing chain for you, you can choose between home delivery or our click and collect service.
If you're still unsure on which chain to order, you could head down to your local Halfords store where one of our expert team members will be happy to help.