Find what's right for your vehicle
Enter your registration number and we'll only show you appropriate products.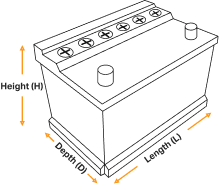 Check which battery is right for my car
A sump pump is located beneath the engine block, and is designed to gather oil that has been pumped around the engine. The sump plug is located at the base of the pump and allows the oil to drain away when the plug is unscrewed. There are two types of sump, a dry sump and a wet sump - with the latter featuring on almost all road cars. If you're a fan of motor racing, you might have heard of a dry sump, which is a component found on professional racing cars that collects the oil and redistributes it via a pump - leaving the sump dry.
The sump pump and sump plug are two e engine parts that should be checked for faults on a regular basis. As mentioned, they hang down beneath the engine and are prone to damage caused by debris and speed bumps. To maintain an exceptional engine performance, a faulty sump should be replaced as soon as you detect a fault. Replacing a sump plug is fairly inexpensive and can be done during an oil change.
If you're looking for a replacement oil sump, ordering from Halfords couldn't be easier. Our lookup tool will find relevant products that match your vehicle registration number. And once you've found the right products, you can order online and collect at your local Halfords store for free. Or, if you'd prefer, order online for delivery to your home or work address. If you can't find your vehicle, head down to your local Halfords store where one of our colleagues will be happy to assist you.