Find what's right for your vehicle
Enter your registration number and we'll only show you appropriate products.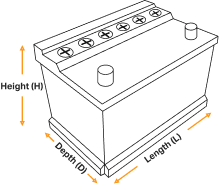 Check which battery is right for my car
What is a timing belt?
The timing belt is what connects the crankshaft to the camshaft, controlling the timing and order in which the engine's valves open and close. As one of the most important engine components, it's incredibly important that you maintain its condition, as if your timing belt goes, all the other timing components will need replacing too.
When to change timing belt
Most manufacturers recommend that you replace your timing belt every 60,000 miles - or 5 years, though this will vary by manufacturer. Timing belt symptoms include:
Ticking noise from the engine.
Engine misfires.
You have an oil leak.
Issues with your exhaust, such as more smoke than usual.
If you see these timing belt warning signs, you're likely to need a replacement. If you're unsure whether the cambelt is the cause of your car's problems, then you can get a free timing belt check from Halfords to figure out what's wrong.
Timing belt replacement
Replacing a timing belt - or cambelt as it's also known - is made easier with a timing belt kit. This kit provides you with all the necessary components to repair a timing belt. A fully-functioning timing belt is essential to the operation of your car, and will guarantee an enjoyable and efficient drive.
At Halfords, we have a wide range of timing belt kits for a variety of car makes and models. When choosing a timing belt kit, it must be suitable for your vehicle. Using our lookup tool, enter your vehicle registration number and our system will pull relevant products suitable for your car. Once you've found the OEM car parts you need, use our convenient click & collect service to get hold of your products sooner. Or, if you prefer, choose a delivery slot that suits you. Still unsure which products to choose? Head down to your local Halfords store where one of our colleagues will be happy to assist you.