Find what's right for your vehicle
Enter your registration number and we'll only show you appropriate products.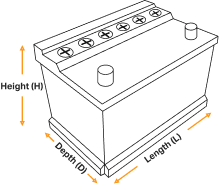 Check which battery is right for my car
Buy Car Brake Drums
Brake drums are part of the Brake system and are usually found on the rear wheels of vehicles. They work with brake shoes to create friction, slowing down or stopping the vehicle. Over time, they can wear out due to regular use and heat.
Replacing worn brake drums is crucial for optimal braking performance and safety. When they wear out, your car's stopping power lessens, leading to longer braking distances and potential safety risks.
If you notice any issues, the sensible thing to do is have your brake system inspected by a qualified mechanic and replace the brake drums if necessary. Even if your car's braking system works well, checking your brakes regularly is essential to ensure safety. At Halfords, we offer car brake services, including free brake checks, brake repairs at 400 nationwide stores and garages, and brake fluid changes.
How do brake drums work?
When the brake pedal is pressed, hydraulic pressure is applied to the brake shoes, which causes them to expand and press against the inner surface of the brake drums. This frictional force converts the moving vehicle's kinetic energy into heat energy, slowing down the vehicle and bringing it to a stop.
When do brake drums need to be replaced?
Like other brake components, brake drums wear and tear over time because they're exposed to heat and friction. Knowing when your brake drums need replacing is crucial for maintaining your vehicle's safety. Some signs that your brake drums may need replacing include:
Longer braking distance: If you notice that your car takes longer to come to a complete stop, it could mean your brake drums have worn down and are not providing sufficient braking power.
Vibration or noises when braking: Feeling vibrations or hearing unusual noises when you apply the brakes can be a sign of worn brake drums. The vibrations may occur due to uneven surfaces on the drum caused by wear.
Uneven brake wear: If the brake shoes wear down unevenly, it can lead to an uneven surface on the brake drums, affecting braking performance and causing noise and vibrations during braking.
Free brake check
Get a free brake check from our motoring experts at your local Halfords. If your brake drums or any other brake components need replacing, we provide brake repair services to get your car back on the road in no time.
---
Brake Drums FAQs
The cost of replacing brake drums can vary depending on your vehicle's make, model, and quality of the product. Brake drums typically range from £40 to £60, but the cost may be higher for certain vehicles. Use our brake quote tool to get an accurate price on replacing your brake drums.
Yes, brake drums and other brake components are checked during an MOT test. A brake check is part of the MOT test or service to ensure your vehicle's braking system functions correctly and meets safety standards. Our experienced technicians at Halfords are qualified to perform comprehensive brake checks to assess the condition of your brake drums and other components.
Changing a brake drum on your vehicle should not impact your warranty if the replacement part matches the required quality standards. At Halfords, we offer high-quality brake drums suitable for various makes and models so you can maintain your warranty cover.
Finding the right brake drum for your vehicle is easy with Halfords. Enter your registration number on our registration look-up tool, and we'll show you a selection of compatible brake drums that match your car's make and model.
At Halfords, we've supplied DIY mechanics with everything they need to fix their cars for over 100 years. You can fit brake drums into your vehicle with the necessary skills and tools. However, if you're unsure or prefer professional assistance, our motoring experts at our garages are here to help you with any fitting or repairs you need.
Brake discs and brake drums are different components used in various braking systems.
In a car with drum brakes, when you push your foot on the brake pedal, padded shoes inside the drum push against the rotating drum, providing the stopping power. Most modern cars use disc brakes and pads, but drum brakes are still fitted to many older and classic cars. Drum brakes are still found in modern cars, usually on the rear wheels.
Brake drums are cylindrical-shaped, with brake shoes pressing against their inner surface to create friction and slow down the vehicle.
Brake discs are flat, circular metal plates clamped between brake pads when the brake pedal is pressed, generating friction to slow down the vehicle.