Brake Drums
Find what's right for your vehicle
Enter your registration number and we'll only show you appropriate products.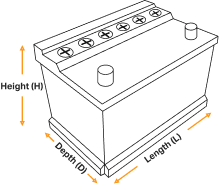 Check which battery is right for my car
In a car with drum brakes, when you push your foot on the brake pedal padded shoes inside the drum push against the rotating drum, providing the stopping power. Most modern cars use disc brakes and pads, but drum brakes are still fitted to many older and classic cars. Replacement car brake drums are still available for all makes and model of car - and you can find them all at Halfords. Over time, the constant pressure being applied to car brake drums and shoes wears them out. You'll be able to feel that your brakes aren't as effective anymore and you may notice an annoying squeak when you push on the brake pedal. Even if your car's braking system is working well, it's important to check your brakes regularly. If you spot a problem or are repairing or restoring a vehicle with drum brakes, you will find the car parts you need at Halfords. Enter your registration number into the car parts finder and it will select the parts for your vehicle. You can choose to buy online with free delivery over £40, or use our Click and Collect service to have your new brake drums dropped off at your
nearest Halfords store
. If you're looking for a safe and professional fitting service, head down to your
local Autocentres
today.