Find what's right for your vehicle
Enter your registration number and we'll only show you appropriate products.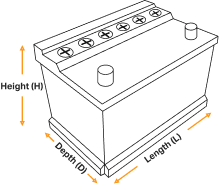 Check which battery is right for my car
Bolted to the back of the crankshaft, your car's flywheel does a couple of important job. Firstly, it engages with the engine to help start it. Then, when you're driving the flywheel rotates inside your car, effectively storing the rotational energy that's delivered to it by the engine. It provides the link between your engine and the clutch. When you depress the clutch pedal, the clutch disc presses against the flywheel, enabling the transmission to deliver power to the wheel, and get you moving. Flywheels can crack or become damaged over time. They can also become contaminated by fluids like oil in the grooves can reduce the amount of friction. A failing flywheel can cause your gears to slip, leading to dangerous driving conditions. At Halfords, we've got a selection of fantastic flywheels for all major makes and models. Alongside the typical dual mass flywheel replacements, we've got a range of
solid flywheels
too. Finding the right flywheel is easy with our car parts finder tool. Enter your registration and you'll see the exact parts for your vehicle. All of our parts are chosen for their quality. At Halfords, we've been helping mechanics keep their cars on the road for longer. Today, we have a huge selection of car parts in stock and ready to fit, including all the
transmission spares
you could want.