Clutch Parts
Find what's right for your vehicle
Enter your registration number and we'll only show you appropriate products.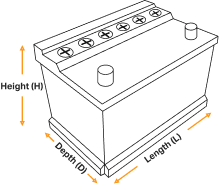 Check which battery is right for my car
Your clutch is an essential car part that must be fixed as soon as a problem is discovered. Since your car's clutch is responsible for transmitting engine power to the gearbox, it's crucial that this function is performing well.
There are different signs to tell when your clutch may need a replacement, including noises when you press down on the pedal or the clutch feels spongy, sticks or vibrates. If you're unsure whether your clutch needs a replacement, or which part is causing the issue, you can book a free clutch inspection from Halfords.
Order Halfords Clutch Parts
At Halfords, we stock a great range of different clutch parts whether you need a clutch plate, clutch release bearing, flywheel or other. Simply enter your registration number to see suitable parts for your vehicle. If you need a full clutch replacement, you can order all essential parts in a helpful clutch kit, which costs less than ordering the parts separately.
Once you've found the car parts for you, choose between our convenient click & collect service from your local Halfords store, or opt for home delivery. There's free next day delivery on orders over £20. If you'd like more direction about which products you need for your vehicle, head down to your local Halfords store where one of our helpful experts can assist you.