Find what's right for your vehicle
Enter your registration number and we'll only show you appropriate products.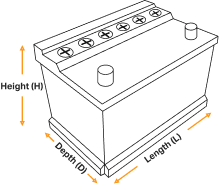 Check which battery is right for my car
What is a CV boot?
As a black piece of rubber, the CV boot might not look like a very important car part, but it has the important job of protecting the CV joint which connects the two driveshafts and allows them to rotate. For the CV joint to work effectively, it must be greased and protected from dirt and moisture at all times. The CV boot is made from a flexible corrugated rubber, which offers great protection and a degree of flexibility for the CV joint to move.
When to replace CV boot
As with all car parts, the CV boot is subject to general wear and tear and needs replacing if it cracks or tears. A faulty CV boot can leak grease which causes friction and can put the joint under heavy strain. One of the common signs of this is the sound of knocking during gear changes. If you need a CV boot replacement, we stock kits with all of the parts you need to fully fix the issue.
Order CV boot kit from Halfords
At Halfords, we have a huge range of CV boot kits and CV joint kits for a variety of car makes and models- simply enter your vehicle registration number into the tool provided and our system will pull relevant products suitable for your vehicle. Once you've found the products you need, use our convenient click & collect service to get hold of them sooner, or opt for delivery if you'd prefer to have them delivered to your home or work address. If you're still unsure which products you need, head to your local Halfords store where one of our colleagues will be happy to help you out. They'll even book you in for a service to fit your new CV boot kit or CV boot clips.