Find what's right for your vehicle
Enter your registration number and we'll only show you appropriate products.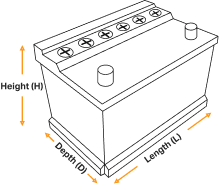 Check which battery is right for my car
About our Driveshafts
If you need a driveshaft repair, you've come to the right place, as we stock a great selection of driveshafts and transmission parts for a variety of car makes and models. The term driveshaft usually refers to a component found in a car with rear-wheel drive, as the front-wheel-drive equivalent is typically referred to as a half shaft or frontal drive shaft.
Why might you need a driveshaft repair?
The driveshaft is what delivers the engine's power to the wheels through the transmission, and is the process which effectively gets your car moving. As a key component to the drivetrain mechanism, the driveshaft is subject to intense pressure and movement. This can cause the driveshaft to deteriorate over time, causing major problems to your car's engine and transmission. Damage to the driveshaft can also be caused through kerb collisions, so it pays to be careful when parking.
Driveshaft symptoms
Some of the most common indications of a driveshaft failure are things like squeaking, rattling, vibration in the floor or resistance in the wheels when turning. If your driveshaft completely fails,you won't be able to start your engine, or you could lose control of the car if you're already driving. Therefore, if you're experiencing any of the symptoms above, enter your vehicle registration into the tool provided and we'll match you with relevant products for your vehicle.
Order online from Halfords
Once you've found the driveshaft parts you need, use our convenient click & collect or delivery service to get them quicker, or opt for delivery if you'd rather have them delivered to your home or work address. If you're still unsure which products to choose, head down to your local Halfords store where one of our colleagues will be happy to assist you.