Find what's right for your vehicle
Enter your registration number and we'll only show you appropriate products.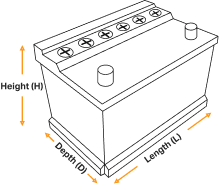 Check which battery is right for my car
A hydraulic clutch works by forcing pressurised hydraulic fluid into the clutch disengagement apparatus. Like many parts of your car's engine, the clutch and transmission systems rely on hydraulics for their operation. Clutch hydraulics are self-regulating, but the fluid level will still need to be checked regularly to keep it in full-working order. There are multiple benefits of having a hydraulic clutch, including smoother gear changes with a lighter response on the pedals, beneficial if you frequently drive on long journeys. Another plus point is that hydraulic clutches feature fewer small components that are likely to need replacing - saving you time and money in the long-run. As with all
car parts
, there are regular maintenance checks that should be carried out to ensure your clutch is in the best possible condition. This includes checking the fluid levels in the clutch reservoir. The fluid should be topped up as and when it runs low, with a full replacement happening once a year for the best results. On top of this, hydraulic clutches can become blocked and the seals can wear out, which can cause leaks. If you detect either of the above, you should visit your local Autocentres
local Autocentres
and have your clutch check out by one of our professionals. Within our range, you'll find a choice of products to suit all car makes and models. To find suitable products for your vehicle, enter your car registration number into the available tool and our system will pull relevant products tailored to that vehicle. Once you've found the products you need, use delivery or click & collect service to get hold of them sooner. For more information on choosing the right products, head to your local Halfords store where one of our colleagues will be happy to help you out.