Find what's right for your vehicle
Enter your registration number and we'll only show you appropriate products.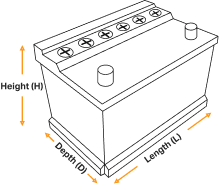 Check which battery is right for my car
About Our Headlights Range
A fully-working set of headlights will allow you to be seen on the road by other motorists and pedestrians. As one of the most important elements on any vehicle, it is a legal requirement that your car's headlights work correctly. As well as making other road users aware of your presence in low-light conditions, your car's headlights are also responsible for lighting the road ahead.
If you've been involved in a collision, you may find yourself needing to replace a whole headlight, or both. Alternatively, you might find that your headlamps are faulty and need to be fully replaced.
Getting a Headlight Replacement
If your headlights are faulty or damaged, they should be replaced or repaired immediately, as failure to do so could result in a fine or a driving ban. Thankfully, here at Halfords we have a huge range of dipped headlights, LED headlights and Xenon headlights to suit all vehicle makes and models.
You may find that you need a bulb replacing, rather than a full headlight replacement. In this case, you'll also find a huge range of headlight bulbs and LED headlight bulbs online. What's more, we'll even fit your bulbs at Halfords for a small fee of £8.00!
Finding Your Ideal Headlights
To find suitable products for your car, enter your vehicle registration number into the tool provided. Once you've found the products you need, you can order online for delivery or collect at your local Halfords store for free. Still unsure which products you need? Head down to your nearest store where one of our colleagues will be happy to assist you. They'll also fit your new headlights too, ensuring you are back on the road in no time when your headlights blow.