Find what's right for your vehicle
Enter your registration number and we'll only show you appropriate products.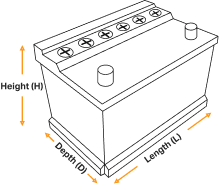 Check which battery is right for my car
Car Horn Replacement
A car horn is essential for alerting pedestrians and other motorists of your presence, and can help prevent serious accidents on the road. Little do many motorists know, but it's a legal requirement to have a fully-working car horn, and a faulty or nonexistent horn will result in a failed MOT. If the horn is not working in your car, Halfords has a great range of car horns for sale.
About Our Car Alarms
A car alarm is designed to alert you when someone is attempting to get into your vehicle without the use of a key. Most modern cars are equipped with a basic car alarm, though third party alarms are the most secure and offer the highest level of protection. At Halfords, you'll find a great selection of third party car alarms for a variety of car makes and models. What's more, our high-quality car alarms will also reduce your insurance premiums, so it's definitely an investment worthwhile. If your car alarm keeps going off, there's a chance that it may be faulty or has been fitted incorrectly. If you need a car alarm fitting, head to your local Halfords Autocentre and speak to a member of our team for more information. Thatway, you can get a car alarm installation near you without any hassle.
Car Alarms and Car Horns For Sale
To find the best car alarm systems and horns for your vehicle, enter your registration number into the tool provided and our system will the right ones for you. Once you've found the products you need, use our convenient click and collect service to get hold of them sooner. Alternatively, opt for delivery and have them delivered to your home or work address. If you need any other car parts, Halfords is here to help.