Find what's right for your vehicle
Enter your registration number and we'll only show you appropriate products.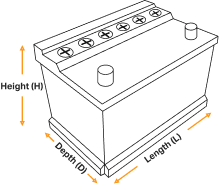 Check which battery is right for my car
Car indicators not working?
One of the most common causes of car accidents is the failure to indicate when turning. A car light indicator issue is one of the easiest problems to diagnose and can be done alone on your driveway. Your car's indicators are one of the most important car elements, but they are also one of the simplest, relying on a basic electrical circuit with two switches to function. While detecting a fault with your car indicators is easy, there are several reasons why your indicators may not be working correctly.
If your indicators have stopped working or are flashing rapidly, a broken relay, dead bulb or a loose wire could be the problem. If you only need a new bulb, instead of a whole new car indicator, you can visit our bulbs page and filter by the type you need.
Order Halfords car indicator lights
To find the root cause of an indicator issue, head down to your local Halfords store where one of our expert team will be happy to assist you. If you know which parts you need, use our vehicle registration tool to find suitable car indicators for your car make and model - you'll find everything you need and more!
Once you've found the products you need, order online and collect your products at your nearest store, or, opt for delivery if you'd prefer to have your new car side lights delivered to your home or work address. What's more, we'll even fit your new indicator bulbs for a small fee of £9!