Find what's right for your vehicle
Enter your registration number and we'll only show you appropriate products.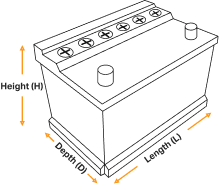 Check which battery is right for my car
What does a car water pump do?
To be fully functional, many parts of your car, including the engine, require a steady flow of water. This is extremely important when your car is in motion, as it reaches a very high temperature and needs water to cool it down. The water pump is responsible for supplying the engine with a steady flow of water which is pumped from the radiator, and then recycled through the coolant system. Just like your car's engine, air conditioning (AC) systems also function from the flow of hot or cold water.
What are water pump gaskets?
The water pump gasket is fundamental to the cooling process, and works as a seal to prevent leaking. It is also important for ensuring the flow of liquid reaches the correct parts of your vehicle.
Car water pump symptoms
As with all car parts and because they are in constant use, water pumps and gaskets are subject to natural wear and tear and should be replaced as part of your vehicle's maintenance. One way to identify a coolant leak is to check under your vehicle for a pool of water. Water leakage in the oil compartment is another sign of gasket failure.
Order water pumps and gaskets from Halfords
To ensure you choose the correct products for your car, enter your vehicle registration number into the tool provided and our system will pull the relevant products suitable for your vehicle. Still unsure which products to buy? Head down to your local Halfords store where one of our team will be happy to help you out. If you know which parts you require, order online using our delivery or click & collect service to get hold of your products sooner.