Find what's right for your vehicle
Enter your registration number and we'll only show you appropriate products.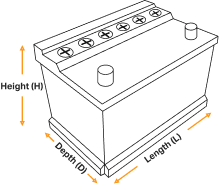 Check which battery is right for my car
Your car's rotor arm sits inside the distributor cap. It moves inside, making contact with the ignition coils, creating a spark in each cylinder. They're the hidden hero that fire your engine into life, whatever the weather. Rotor arms are simple pieces that do a crucial job. When they start to fail, you'll need to replace it or you won't be going anywhere. You can find the replacement car parts you need at
local Halfords store
. We stock rotor arms and ignition spares for all vehicles. It's easy to find the part you need by with our selector tool. Type in your registration number and it will only display the parts that will fir your car. Get the spark back into your driving life with Halfords.