Find what's right for your vehicle
Enter your registration number and we'll only show you appropriate products.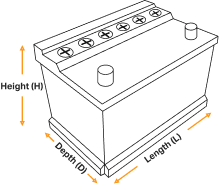 Check which battery is right for my car
If you want to improve the efficiency of your car brakes then a brake vacuum pump is one of the most effective ways of doing this. Using a combination of atmospheric pressure and the pulling force of a vacuum to multiply the amount of force as you press on the brakes. When you press the brake pedal in our car, we don't often give much thought into what's actually making the car stop. Unsurprisingly, it takes more than just pressing on a pedal. That action sets off a whole chain of events, with perhaps the most important being the application of a vacuum pump to increase the braking pressure. If you didn't have a brake vacuum pump fitted it would make stopping your vehicle safety all that more difficult. If you notice it is getting more difficult to brake then you may need to replace your vacuum pump to make sure you maintain your braking efficiency. Halfords supply a full range of vacuum pumps for you to order online today. If you need any help choosing the right brake vacuum pump for your vehicle, then you can call into our
local Halfords store
and one of our team will be happy to help. You can also make use of our free click and collect service. Interest-free credit is available.