Find what's right for your vehicle
Enter your registration number and we'll only show you appropriate products.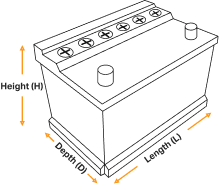 Check which battery is right for my car
Every car on the road is made up of thousands of different parts. And one of the most vital systems in your car is the brakes. Your brakes are an intricate system made up of lots of different parts in including brake shoes, pads, cables and master cylinders. As well as the other hydraulics that make up the whole of the braking system. Hydraulic disc brakes are a core part of the system, as you press your brake pedal the pressure forces the pistons to act and bring your car to a safe stop. So it's key to make sure all the parts that make up your hydraulic brakes are not damaged or corroded in any way as this will affect your ability to brake safely. Choosing the correct parts for your hydraulic brake system can be tricky if you don't have the correct knowledge. That's why the team at Halfords have the know how to help you make the right choice. If you are sure on which of the other hydraulics is right for you, then you can order online today for delivery to your home, if you do need some advice then just call into your
local Garage
, and the team are ready to assist you. You can also use our free click and collect service. Interest-free credit is available.