Find what's right for your vehicle
Enter your registration number and we'll only show you appropriate products.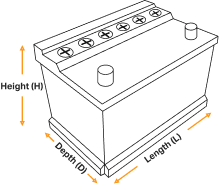 Check which battery is right for my car
Wheel Cylinder Information
What are wheel cylinders?
Wheel cylinders, also known as slave cylinders, form an important part of what stops your car when you press on the brakes. The wheel cylinder exerts force onto the brake shoes, pushing them into the drum and creating the friction to stop your car. When you press on the brake pedal, this generates hydraulic pressure, which acts on the pistons and then exerts mechanical pressure on the brake shoes.
The slave cylinder is the counterpart to the master cylinder and works at the opposite end of the hydraulic system.
Wheel cylinder symptoms
If you need a slave cylinder replacement, you will likely have low brake fluid, the clutch will feel soft, and you will have difficulty changing gear. If you're unsure whether you need to replace your wheel cylinder, then simply book a free brake check from Halfords.
When vehicles get older, brake wheel cylinders tend to have a habit of starting to leak, but the good news is they're usually pretty cheap and easy to replace. Wheel cylinders are important for your driver safety and should be maintained through regular checks and part of your yearly service. It is advisable to replace your brake wheel cylinder whenever you change your brake shoes or brake drums.
Wheel cylinder replacement
If you need advice on what is the correct wheel cylinder for your car, then why not call into your local Halfords store and one of our team will be happy to help you choose. You can order online today with free next day delivery on order over £20, or make use of our free click and collect service.