Find what's right for your vehicle
Enter your registration number and we'll only show you appropriate products.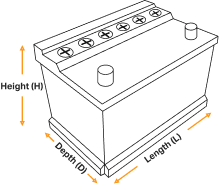 Check which battery is right for my car
Master Cylinder Information
Brake Master Cylinder
Your car's braking system uses hydraulic pressure applied from your foot as it presses the brake pedal to create friction, allowing you to brake safely. If your brake master cylinder is not working correctly then this will affect the braking power of your car and could potentially put you at risk. The hydraulic pressure sets the braking system into motion and is vital for enabling you to brake efficiently when needed.
Brake master cylinder symptoms
If your brake master cylinder is failing, you may notice unusual braking, leaking or contaminated brake fluid, or an engine or brake warning light illuminated.
One of the most common failures for brake master cylinders is the contamination of brake fluid, so you need to carry out regular checks, as this can cause you to fail your MOT. You may notice when checking your vehicle that your brake master cylinder is not faulty but your issues are caused by the wheel cylinder. If you need a different replacement brake part, then check out our Car Brakes & Brake Parts page to find the replacements you need.
Clutch master cylinder replacement
If you need any help or advice on which is the best master cylinder for your vehicle, then just call into your local Halfords and one of our team will be on hand to help you choose the right one. All of our brake master cylinders are available to order online today with free next day delivery on orders over £20, or if you want to order and pick up, then you can use our free click and collect service.