Brake Shoes
Brake shoes play an essential role in your vehicle's braking system, where they press the rotating cylinder to create the friction to stop. If you need a brake shoe replacement, you can find all different types of brake parts at Halfords.
Find what's right for your vehicle
Enter your registration number and we'll only show you appropriate products.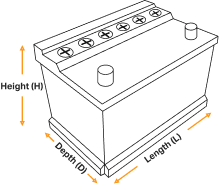 Check which battery is right for my car
What are brake shoes?
Brake shoes are used in drum brake systems, with the lined shoe pressing against the inside of the drum to stop it moving. The drum is attached to the wheel making it a safe and effective way to make your car stop. Brakes and rear brake shoes are something that are extremely important for your safety and should never be neglected.
Why are brake shoes important?
When it comes to stopping at speed, brake shoes are most effective and should be well maintained at all times. This is why Halfords are always on hand to ensure your braking system is in full working order. We can help you find the right brake shoes for your vehicle so you can get replacement parts easily.
Order brake shoes from Halfords
Once you've found the right brake shoes for your vehicle, you can order them online to be delivered to your home or choose our easy click and collect service. If you need any advice on which car brake shoe is the best for your vehicle, you can call into your local Halfords Garage where one of our friendly experts will be happy to help.