Find what's right for your vehicle
Enter your registration number and we'll only show you appropriate products.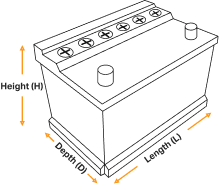 Check which battery is right for my car
The ability to brake safely is vital for you as a driver. So a functioning brake servo allows the driver to do just that. If the servo is not working correctly then the driver must apply much more pressure to the brake, which compromises yours and any pedestrian's safety. Also known as the brake booster, they help the driver by reducing the braking effort on their part. Practically all vehicles with hydraulic braking systems will use servos when braking. They contain a vacuum that increases the braking force you apply with your brake pedal, which it then transfers to the master cylinder to provide the increased braking force. You can order your new car brake servo online today for delivery to your home, or if you need it in a hurry you can make use of our free click and collect service. If you need any advice on which brake servo is the right one for your vehicle, then why not call into your local Halfords store and one of our team will be happy to help you choose. Interest-free credit is available.