Find what's right for your vehicle
Enter your registration number and we'll only show you appropriate products.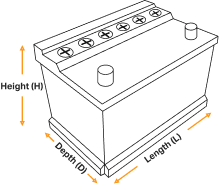 Check which battery is right for my car
Handbrake shoes are found inside a rotating metal drum attached to your wheel. When you pull your handbrake lever up, the shoe is forced against the brake drum, creating friction and stopping your car from moving. A worn-down or damaged handbrake shoe can stop your handbrake from working as it should, so if you need a replacement you're in the right place! Handbrake shoes and handbrake cables are fundamental to our cars braking system and if not working correctly you run the risk of not being able to park your car securely, they can suffer from corrosion, and handbrake cables can on occasion snap leaving them unable to perform as they should. At the first sign of damage you should immediately replace your handbrake shoes to prevent any damage to yourself or your car. With a wide range of handbrake shoes to order online, you can order today and we will have them delivered to your door. Or if you can take advantage of our free click and collect service, if you need any advice which handbrake shoe is the best for your vehicle you can call into a
Halfords near you
and one of our friendly team is on hand to help you make your decision.