ABS Sensors & Hydraulic Units
Find what's right for your vehicle
Enter your registration number and we'll only show you appropriate products.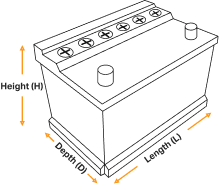 Check which battery is right for my car
Anti-lock braking systems work hard to keep your car safe on the road. The system monitors the stability of your car and adjusts the braking effort across all four wheels to stop your car from skidding or veering. ABS units work all the time but are especially useful at avoiding crashes and smashes in difficult driving conditions, like heavy rain, ice and snow. You'll know if your ABS isn't working as you'll see a flashing light. If you need parts to fix your anti-lock brakes, you can find them at Halfords. We've got ABS sensors and hydraulic units from leading manufacturers like Bremi and Bosch that will provide long-lasting confidence that your car is safe on the road. If you're repairing or replacing your ABS systems, then you'll find all of the products you need for your vehicle at Halfords. Enter your registration number and our ABS sensor tool will display the right parts for your car. If you're looking for a safe and professional fitting service, head down to your
/local Autocentres
today.