Find what's right for your vehicle
Enter your registration number and we'll only show you appropriate products.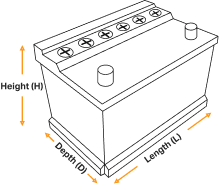 Check which battery is right for my car
Car brake parts
There are a lot of working parts when it comes to the brakes on your vehicle. Pads, discs, drums and calipers. These all work together to make sure your braking system works effectively. That's why having your brake pipes and brake hoses in good working order are essential to drive safely. We understand this at Halfords and our team are specially trained to know which hoses and pipes are specific to the make and model of your car. Rather than being unsure which car parts are suited for your vehicle, you can enter your registration number to see all only the relevant brake hoses and pipes for you.
Faulty brake pipes and hoses
Your brake pipes are essential parts which transfer braking fluid to make your car come to a halt. Over time, your brake pipe could become corroded and even start leaking brake fluid. Your brake lines are the reason your brakes work, so if you notice any issues then you must get a brake pipe replacement as soon as possible.
Brake lines are checked as part of your MOT and if they are corroded and not in full working order you will fail. They are at the mercy of the elements and exposed to wear and tear as part of the high pressures exerted as part of your car's braking system.
Order brake pipes and hoses from Halfords
All of our brake pipes, brake hoses and brake lines are available to order online today and be delivered to your home or local store with click and collect. If you need any advice on which hoses and pipes are required for your vehicle, then call into your local Halfords store and one of our team will be happy to help you choose. Interest free credit is available.