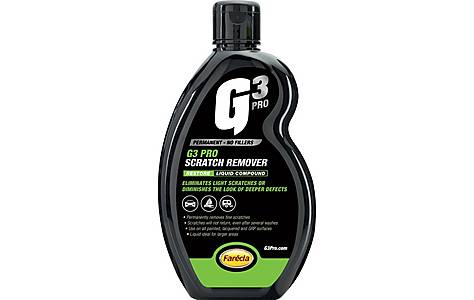 Description

Farecla G3 PERMANENT Scratch Remover Liquid

Farecla G3 Scratch Remover Liquid

has been made with special diminishing abrasives, which very cleverly removes surface scratches and scuffs from your car's bodywork without effecting the paint. The advanced formula, which has been developed alongside paint and lacquer manufacturers, make them safe and effective for all paint types. Now, you can breathe a sigh of relief when you notice the odd scratch.

Farecla G3 PERMANENT Scratch Remover Liquid Extra Info

Contains unique Engineered Diminishing Abrasives for safe and effective application
Suitable for all paint types
As used by professionals

Additional Information

To view more products and information on the Farecla G3 range, please click here.
Overview

| | |
| --- | --- |
| Size: | 500 ml |
| Type: | Colour Restorers & Scratch Removers |
Farecla G3 PERMANENT Scratch Remover Liquid 500ml
Cat code: 247929
Free Click & Collect
Delivery Available
Show Options
Standard Delivery

£2.99

FREE within 4 working days on all orders over £30 (Halfords products only)

Next Day Delivery

£4.99

Order by 8pm for delivery tomorrow (Mon - Fri)

Named Day Delivery

£4.99

Choose your delivery day (Mon - Fri)

Saturday Delivery

£5.99

Order by 8pm Friday for delivery on Saturday

Sunday Delivery

£5.99

Order by 8pm Friday for delivery on Sunday

Morning Delivery

£6.99

Order by 8pm for delivery 8am - 12 midday (Mon - Fri)

Afternoon Delivery

£6.99

Order by 8pm for delivery
12 midday - 6pm (Mon - Fri)

Evening Delivery

£9.99

Order by 8pm for delivery 6pm - 9pm (Mon - Fri)
Other customers who bought this also viewed
Reviews

Farécla G3 Scratch Remover Liquid 500ml

2

2

wowzers!!

I bought this product on a whim after reading a previous review and I'm really glad I did. I scratched my car and wanted to get rid of it before my boyfriend got home from work, I was a bit sceptical thinking it might ruin the paintwork but the scratches n stuffs have disappeared without a trace!! All it took was a bit of elbow grease and being a 5ft 3 woman weighing 7 stone you''ll be glad to know we can all use it!!! I would really recommend using the G3 waffle pads with it too.

15 September 2012

Elbow Greese Required

After falling in love with my 09 focus st I finally found time to polish it. And after closer inpection found that the paint work was in dier need of some TLC. The bonet was a wash with scratches, the sort i have never had much experience with before, well not on a large scale. I was told the Farécl G3 is a company that pro Garages use. The Farécla G3 Scratch Remover is a hard product to use, and you need to spend along time on the deeper scratches. Providing you can run your finger nail over it with out stopping, it will come out. On heavy used it will mark you paint work having taken the deep scratches out. You maybe left will lots of fine ones if your car is as badly scratched as mine was. These will show up in the sunlight so I would recommend you use a good polish or a paint Renovatior after use. You have to think of it as the first step like using a heavy grit wet and dry sand paper. But i put some elbow greese into it and i took me a full day but, my cars paint is now factory fresh.

18 August 2011

Other Buying Options

You can buy this product from one of our carefully selected Approved Partners. The full list of options available are below. Simply add your chosen option to your basket and proceed to checkout when you're ready.

You can purchase products supplied by Halfords and selected other suppliers on halfords.com.

Checkout is always via halfords.com and all payment will be taken via halfords.com. In checkout the products will be split into separate deliveries for each supplier.

Showing 1 -

X

of our buying options

| Price | Seller Info | Purchase |
| --- | --- | --- |