Back to results
Finding the Right Size Bike for your Kids Guide + Video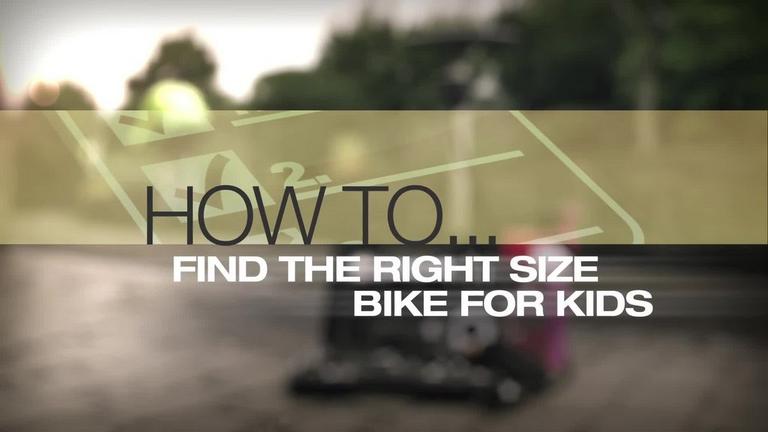 Make sure you choose the right size bike for your little one with our guide.
Finding the Right Size Bike for your Kids
It's important to pick a bike that will be the right size for your child, as one that's too large can be uncomfortable and difficult for them to ride. Of course, if your child is between sizes, it's sensible to pick the larger one, but forcing them onto a bike that is far too big might mean that they won't enjoy it at all.
Kids bike sizes are decided using the size of the wheels, rather than the size of the frame. Bigger wheels can roll better, and give an easier and comfier ride for children. If they're too big, however, your child won't be able to control them.
Measuring your child in-store
If you're already in one of our stores, the easiest way to find the right size is to use our in-store guides and get your child to sit on some! Here's what to look for:
Your child can put the balls of their feet on the floor when sitting on the saddle.
There's enough room for them to stand over the top tube (the horizontal bar of the bike) when they're not on the saddle.
Look at them from the side to check if the bike is long enough for them. Children tend to ride in a more upright position, but if they're squashed onto a short bike then it can be unstable and not as comfortable. Their arms should be almost straight and their backs leaning slightly forward.
Measuring your child at home
If you're buying a children's bike online or it's a surprise for a special occasion, don't worry! You can still find the right size using our children's bike size guides:
Measure your child's height or inner leg (also known as the inseam) using a tape measure to get some idea of what might be a good size. You can find out your child's inseam by measuring the distance from the floor to the top of their inner leg.
Take this measurement and use the table below to help you decide what sort of size bike is suitable.
Once you know the kind of size that might be right, take a look at the product page of the bike you're interested in. There'll be a size guide on this page which will give you a better idea of how that specific model will fit your child.
| Age | Height | Inseam | Wheel Size |
| --- | --- | --- | --- |
| 2-4 yrs | 88-105cm | - | Balance Bikes |
| 3-5 yrs | 98-112cm | 46-55cm | 12" |
| 4-6 yrs | 105-117cm | 51-60cm | 14" |
| 5-7 yrs | 112-127cm | 56-66cm | 16" |
| 6-8 yrs | 112-127cm | 56-66cm | 18" |
| 7-9 yrs | 117-136cm | 68-81cm | 20" |
| 8-11yrs | 127-145cm | 75-88cm | 24" |
Don't worry if you don't feel confident with the size or adjustment of the bike. You can always pop into a store and we can help you out!
Just starting to learn
Whether they're using a balance bike or a small bike with stabilisers, kids who are just starting to learn how to ride will need to be able to put their feet down. This means that rather than putting their tip-toes on the ground, make sure that they can put their feet down flat if you're trying out bikes in person! You can always adjust the saddle upwards as they grow.
And that's it! Hopefully this guide will get your kids onto the right size bikes and set them up for a lifetime of happy cycling. To take a look through our range of kids' bikes, click here.
View all Kids Bikes