Back to results
Free Bike Check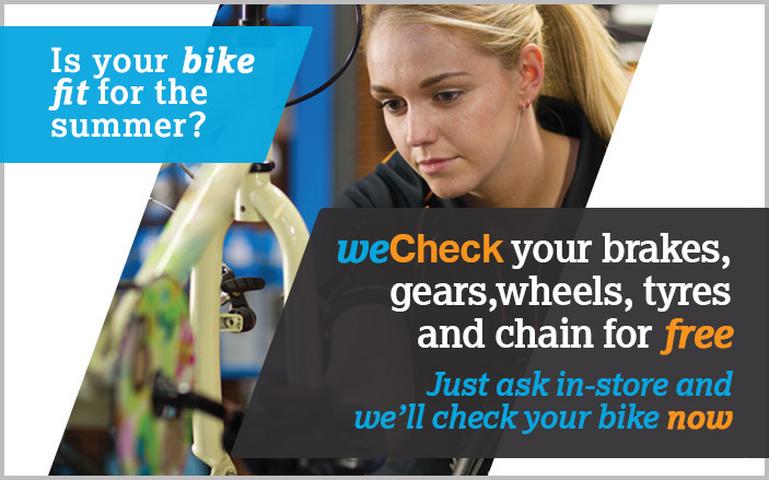 Find out about how you can keep your bike in top condition with Halfords' free bike check.
Your Free Bike Check
Wind in your hair, a big grin on your face, that feeling of freedom; cycling is like nothing else. But just like other machines, bikes need check-ups every so often. Plenty of people aren't confident in checking their bike for wear and tear, but that's where we come in. Our trained bike mechanics can provide you with a free bike check to spot any problems before they develop into bigger ones. We'll check any bike, whether it's yours, your nan's or your child's; all bikes of any size and discipline are welcome. There's no need to book - just turn up with your bike.
What do we check?
With a Halfords' bike check we look at 5 areas:
The handlebars
The wheels, tyres, and hubs
The drivetrain: the gears, chain, and bottom bracket
The brakes
The saddle
What happens?
We carry out what is called an M-check on the above areas, which includes assessing 15 different parts.
This will either confirm that your bike's good to go, or it will determine the level of service required to get your bike back into top condition.
If we spot a problem that requires a service, we'll need to book your bike in so it can be repaired by one of our pros. This shouldn't be too far in the future, but it depends on both the availability of parts and how booked up the store's diary is. Once you bring your bike back to us for its service, we'll safely store it for free both pre- and post-work.
Keeping your bike healthy with Halfords
Whether you're stocking up on inner tubes or looking for a light to brighten up those dark nights, we'll have it. From pedals to panniers and baskets to bottom brackets, we stock thousands of accessories and parts for every type of rider and every type of job.