Back to results
Winter Driving Safety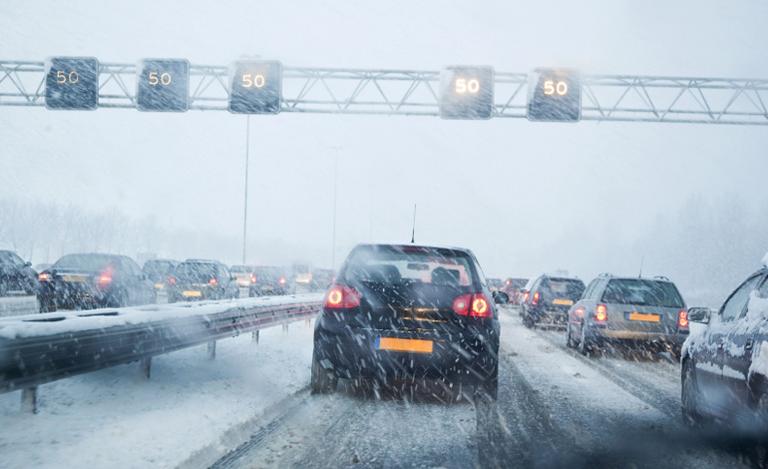 Keep safe on the roads this winter with our guide to winter driving.
Winter Driving Safety
With the average British weather consisting of rain, rain and ...rain, it's no wonder we're never ready for the occasional blanket of snow. If you're one of the thousands of people that get stuck inside after an unexpected blizzard, you might want to read on!
Winter driving tips for before you leave
It's better to stay safe and snug inside after a period of heavy snowfall - the roads become nothing short of treacherous. If your journey is that important, make sure you take a few precautions -
Check the forecast
Keep up to date with travel on the radio or Sat Nav
Let someone at your destination know when you should arrive
Bring a survival kit with as many of the following things as possible -

Warm clothes and hi-vis vest
Food
Boots
Snow shovel
Map
Phone Charger
Clean off your windows and mirrors using a scraper & de-icer

How to drive in winter

If you don't take it easy on the road, none of the prep you put in beforehand will matter! These tips should help you adapt to any type of weather -

For winter sun glare, make sure you have plenty of screenwash. Your sun visors should be in shape - sunglasses may be handy also!
Drive slow in fog and use dipped headlights.
Take it steady on icy roads and don't brake too sharply.
In the rain, double the distance between you and the car in front.
During snow, drive very carefully. Look out for compacted snow!

5 ways to prepare your car for the winter months

Here is the Halfords winter checklist - If you need a hand making sure everything is done correctly, feel free to pop into one of our stores and we'll be happy to help.

Alternator and Car Battery
The more you use lights, heaters and windscreen wipers, the more pressure is put on your car's alternator. Make sure the battery isn't running flat either.

Top Up Your Antifreeze
A cracked engine block or burst radiator will cost you a lot more than topping up your anti-freeze! Use our antifreeze look up tool to find the right type for your car. to find the right type for your car.

Visibility Levels
A clean windscreen should be a no-brainer in cold weather! Give your number plates a sweep too - you can get fined if they're obscured.
Get rid of worn windscreen wipers and always turn them off before getting out of the car (unless you want to damage them). Keep your windscreen washer topped up too.

Check Your Bulbs
If you've blown any bulbs in your car, replace them immediately, as they can be a hazard for you and other drivers. Also use fog lights where appropriate.

Check Your Tyres
Although the legal limit for depth tread is 1.6mm, upgrading to 3mm during winter is a smart move. You could also consider winter tyres or even a snow chain for enhanced grip. Tyre pressure can greatly affect the control you have on the road - make sure your tyres are pumped properly and you'll be good to go!

View Breakdown & Emergency