Motoring FAQ's
How can I tell if my brakes need replacing?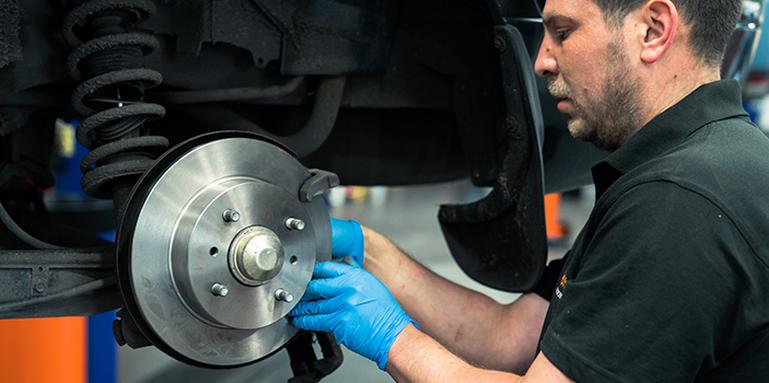 Are your car brakes losing their bite?
Your brakes are the most important safety system of your car. They allow you to control the speed of your vehicle, bring it safely to a halt, and the brake pedal is the first pedal you will hit in an emergency. To put it simply - they are vital.
Like any other system in your car, they need to be regularly maintained and inspected to make sure they are working correctly and effectively, for the safety of you and other road users.
Your annual MOT or Service are both opportunities for a qualified technician to assess the condition of your brakes, however you should always be on the lookout for warning signs that tell you your brakes aren't in excellent condition.
Signs your car brakes aren't working properly
Your brakes don't stop your car as well as they used to: This could be due to a number of reasons: your brake pads and discs could be old and worn causing them to grip less well, the brake fluid could be old and has absorbed moisture - reducing its effectiveness, or the hydraulic system could be losing fluid and pressure.
A grinding sound: If you hear a grinding noise when you brake, it could mean your brake pads or discs need replacing. Brake pads include a metal wear indicator that make a noise when it contacts the brake disc. When your pads are worn to this extent, it is likely you will need to replace the discs too.
A squealing noise: You may also notice a squealing sound when you brake, if the car has been parked in the rain or standing water for long periods of time. This can cause a build-up of rust on the discs, but don't worry, it should quickly wear off when you're back on the road.
Leaks on the inner wheels: Your braking system is complex. If there are worn seals, loose connections or split hoses in the system, air and fluid can leak out, making your brakes less effective. Look out for fluid on the inner wheels, or on the ground where you regularly park your car. Brake fluid is normally clear, with a slight odour.
Pulling to the left or right: Your car should track straight and true when you brake, if it doesn't, it could be a serious problem when you brake hard in an emergency situation. If your brakes are worn more on one side than the other, pulling to one side may occur. Another potential cause may be a sticking brake caliper.
Vibration: If you notice vibrations through your steering wheel or brake pedal as you slow down, get your brakes checked. A vibrating brake pedal is a sign that your brake discs are warped.
Brake pedal sinks to the floor: If you have to press the pedal a long way down before the car starts to slow, this could be due to your brake system leaking which is very serious.
Warning light: If your dashboard is displaying the brake warning light, get your car checked immediately. This is likely an indication that the brake hydraulic system has failed, and must be addressed as soon as possible to avoid a serious accident. Find out more about your car's dashboard lights.
Sticking handbrake: If you feel resistance when you take the handbrake off and try to pull away, your handbrake could be sticking on. Make sure you get it checked by an expert as driving with the handbrake stuck on can cause your brakes to heat up which will wear your brakes and cause damage.
What should I do if I think my car brakes aren't working properly
If for any reason, you think your brakes aren't stopping your car as well as they should, get a free brake check at Halfords Autocentres as soon as you can.
If you feel your brakes are so ineffective that they are dangerous, don't drive your car and get your breakdown operator to tow it to the nearest Autocentre.
How should I maintain my car brakes?
When you get your car Serviced or MOT'd, your technician will advise you on the condition of your brakes and when the various parts of the system need to be replaced.
It is important to replace your brake fluid every two years too, something that Halfords Autocentres do as part of the Major Service.
If you choose to replace your pads or brake shoes at Halfords Autocentres, we will continue to replace these parts for the rest of your life under our Brakes4Life offer, reducing the cost of brake maintenance.
Book a Free Brake Check
How do I choose the correct roof bars?
We offer a number of different brands and systems for your specific requirements, alongside an extensive range of foot packs and fitting kits for a large number of cars and vans.
You'll want to check compatibility using our online checker, but it's also important to consider the properties of the roof bars. Weight limits need to be taken into account and it's also a good idea to think about aerodynamics.
For more information about how to find the right roof bars for you, visit our buyer's guide.
How do I get a replacement roof box key?
You can buy a replacement roof box key on Halfords.com. There'll be a code on the lock of your roof box and you just need to find the key with the matching code online.
Shop our range of Roof Box Spare Keys here.
What do I need to bring to store to have my number plate made?
We'll need to see original documents that:
Prove your name and address
Show you're allowed to use the registration number
Identity documents
You can use the following to confirm your name and address:

Driving licence
Utility, Council Tax or rates bill from the last 6 months
Bank or building society statement from the last 6 months
National identity card
The following will confirm your name only:
Passport (doesn't have to be issued in the UK)
Bank or building society debit or credit card
Police warrant card
Armed forces identity card
Proving you can use the registration number
The DVLA stipulates that you must provide one of the following to show you're allowed to display the registration number:
Vehicle registration certificate (V5C or V5CNI)
New keeper supplement (V5C/2 or V5C/2NI)
Certificate of entitlement (V750 or V750NI) to the number
Retention document (V778) (not applicable in Northern Ireland)
A renewal reminder for a tax disc or SORN (V11 or V11NI)
Temporary registration certificate (V379 or V379NI)
A number plate authorisation certificate (V948) with an official stamp from the Driver and Vehicle Licensing Agency (DVLA), Driver and Vehicle Agency (DVA) or Vehicle and Operator Services Agency (VOSA)
A letter of authorisation from a fleet operator (including lease or hire company) quoting the document reference number from the registration certificate

For further information, please see the DVLA website:
https://www.gov.uk/displaying-number-plates/getting-number-plates-made-up
What size roof box do I need?
In order to find the right size roof box, you need to consider the size of the load you want your roof box to carry. Roof boxes come in:
1/2 width - equivalent to a mid-size car boot
3/4 width - equivalent to a large car boot
Full width - equivalent to a large estate car boot
1/2 width and 3/4 width roof boxes allow additional room on the top of your car for bikes, whereas full width roof boxes take up the full width of your car's roof, making them ideal for large loads when going on holiday or moving house.
If you're still not sure, why not take a look at our buyer's guide?
Is My Motorbike Helmet Road Legal?
All motorcycle helmets worn on UK roads must meet British Safety BS 6658:1985 and carry the BSI Kitemark or UNECE Regulation 22.05 or a European Ecoonomic Area member standard offering at least the same safety and protection as the BS standard and carry a mark equivalent to the BSI Kitemark.
How to order a number plate?
The owner of the number plate will need a proof of address ID, usually a driver's license or passport will suffice, and proof of eligibility of the registration number such as a Logbook (V5C), Authorisation Certificate (V948/eV948) or Cherished Transfer certificate (V778/eV778)
These rules also apply on new electric vehicles which also use a new green number plate
Can I dilute AdBlue before adding?
AdBlue is designed to be used straight out of the bottle without any dilution. Due to the nature of the system, it could cause damage to your car if you do attempt to use diluted AdBlue. AdBlue must meet the requirements set out in ISO 22241-1 and be made up of 32.5% refined urea and 67.5% demineralised water - anything else is illegal to sell under the name AdBlue.
How fast can I go towing a trailer or caravan?
The Highway Code says that the maximum speed that a car with a trailer or caravan, etc. is 60mph on UK motorways and dual carriageways and 50mph other types of roads, providing no lower speed limit is in force.
What is the shelf life of Adblue?
If the bottle remains unopened, it will last for 12 months before degrading too much. If the bottle has been opened, it will last for 6 months before degrading too much. The date which is stamped on the label of a bottle of Adblue refers to the date when it was manufactured
AdBlue In The Wrong Tank What do I do now?
Do not start your engine! Depending on the amount of AdBlue, you may damage your engine when you start it. You should empty and clean your tank. You will have to empty the whole tank and discard the mixture.
What do I do when I have accidentally put diesel in my AdBlue tank?
Do not start your engine! Even the slightest drop of diesel will pollute the AdBlue in your tank. One drop of diesel will pollute up to 20 liters of AdBlue. Running with polluted AdBlue will disrupt your Selective Catalytic Reduction (SCR) system. To prevent further damage to your vehicle, it is best to contact your vehicle manufacturer. You may need to replace certain AdBlue components.
What do I do if I have spilled AdBlue?
AdBlue is not dangerous to the environment. A small AdBlue spill can be diluted with water. It is best to mop up the spillage and avoid flushing it down a drain or waterway. In case of a large spill, try to prevent the spillage from entering drains or waterways. Contain the spill with sand or earth. Please note that AdBlue may make surfaces slippery.
The difference between Advanced Glass Matting (AGM) and Enhanced Flooded Battery (EFB), where are they used, and can they be swapped?
Advanced Glass Matting (AGM) batteries work by absorbing the acid and holding it against the metal plates better. Enhanced Flooded Batteries (EFB) work the same as a normal lead-acid battery, but with carbon to hold the charge better. EFB batteries can be used in in some cases instead of AGM, it depends on the electrical load. Always check the manufacturers handbook before charging your battery.
Alcosense Breathalyser Calibration, Why do you need to, and how often?
The Alcosense breathalysers are incredibly sensitive pieces of equipment, capable of picking up the minutest amounts of alcohol on someone's breath. As they are sensitive, the detection systems can drift out of their operating range just through general usage, blowing too hard, knocks and so on. This would result in a false figure, and may read that you're safe when in fact you're over the limit.Alcosense recommend that you recalibrate your breathalyser every 12 months, by sending it off to Alcosense to be tested and reset. This service costs £19.99 for the Alcosense Lite and Elite models, and £24.99 for the Pro, Ultra and Excel models.
What to do if you've lost the locking wheel key
It's always the way that you never realise you're without your vehicle's locking wheel nut key until you end up with a puncture. However, if you are faced with this predicament, there are a few options to try. Visit your local dealership who may be able to provide a spare key, or use a master key to remove the nut. Visiting your local tyre garage who may be able to drill or cut the nut off.
How fast can I go with my roof bars and box fitted?
All of our roof bars and boxes have been tested up to 80mph or 130kmh. This means that it's safe to drive to the national speed limit with these attached, but care must be taken in high winds
What to do when replacement Halfords Roof Bar System A/E/F key is needed?
Replacement keys can be ordered in store, please visit your local Halfords store.
What is a MOSFET?
A MOSFET is a kind a microchip which can amplify an electrical signal very efficiently. As they're small and don't produce much heat, they're ideal for use in car stereos
How often should I change my brake fluid?
It's recommended by most vehicle manufacturers that brake fluid is changed every two years to keep brakes in the best possible condition. At Halfords, we offer a brake fluid change where our experts will drain your old brake fluid and refill with new replacement fluid. A brake fluid change is also included as part of our major car service.
Why does my steering wheel shake when braking?
If your steering wheel shakes while braking, it's likely that there's an issue with your car's braking system. The cause of the braking issue could be down to worn brake pads, wheel misalignment, warped brake rotors or an issue with suspension components. If you're concerned about your car's steering, you can book a free steering check and one of our experts will diagnose the problem.
Can I use my Blue Badge for parking in Europe?
Your UK Blue Badge can be used in some countries in the European Union (EU), Liechtenstein, Norway, and Switzerland. For confirmation that your Blue Badge is recognised, check with the embassy of the country you are travelling to.
What documents do I need for driving in Europe after Brexit?
A full, valid UK driving licence, certificate of motor insurance, V5C certificate, breakdown cover and UK car sticker. In some instances, you may need an International Driving Permit (IDP) and Green Card. Always check the requirements with the embassy you are travelling to.