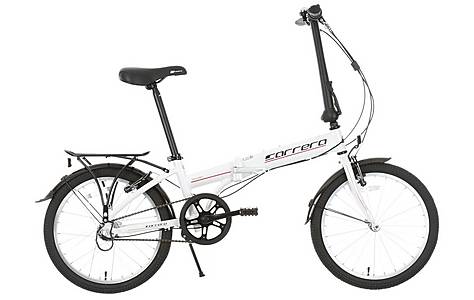 Item: 361292
Carrera Transit Folding Bike
£299.99
Intervening prices may have been charged
Extra 10% off
all adult & kids bikes*
Ends Sunday 5th June

*Excludes ride on toys and cycle accessories

*Discount applied in basket
*Excludes Approved Partners
Read More
How can I get it?
Free Click & Collect

Description
Specification
Reviews
Delivery Options
Help & Advice
Buying Options
Carrera Transit Folding Bike

Created for easy portability, the

Carrera Transit Folding Bike

is lightweight and also easy to maintain. With the frame being made of aluminium for a faster ride, the Nexus hub gearing system is designed for easy maintenance and creating an easier fold. This bike was made to turn heads with its stylish design and good looks.

Frame: Lightweight aluminum
Forks: Rigid steel for durability and comfort
Gears: 3 Speed hub gears for easy commuting
Brakes: Aluminium V-brakes for controlled stopping
Wheels: 20" aluminium rims with rubber tyres for comfort and stability
Folded Dimensions: L:855mm, W:355mm, H:680mm

The Transit also comes with mudguards, kick-stand and luggage rack, making this bike the ideal companion while commuting to and from work.

Fancy a folding bike but don't quite know where to start? You might want to check out out our

Folding Bikes Buyer's Guide

for some handy hints.

Carrera Transit Folding Bike Extra Info:

FREE Local Store build.
FREE 6-week service.
Pre-Delivery inspection and 22 point safety check.
OR get it delivered boxed for self-assembly.

| | |
| --- | --- |
| Approximate Weight (KG): | 14kg |
| Brake Type: | V-Brakes |
| Forks: | Steel Rigid |
| Frame Material: | Alloy |
| Gender: | Unisex |
| Number of Gears: | 3 |
| Pedals Included: | Yes |
| Suspension: | Rigid |
| Wheel Size: | 20" |
| Frame: | Folding |
| Frame Dimensions Folded (L x W x H): | 74cm x 76cm x 40cm |
| Front Brake: | V-Brake |
| Gear Shifters: | Shimano Revo Shifter |
| Handlebars: | 540mm (width) steel handlebars |
| Headset: | Threaded |
| Pedals: | Black Folding Pedals |
| Rear Brake: | V-Brake |
| Rims: | Alloy |
| Saddle: | Black Comfort Saddle |
| Seatpost: | Steel |
| Stem: | Folding |
| Tyres: | Black rubber |

Rated

4.3

out of

5

 by

15

reviewers.

Rated

5

out of

5

 by

happy2b

Well pleased with this bike

Well-built, sturdy construction. Did a 40-mile ride yesterday to compare with road bike - not too much of a compromise for benefit of carrying in car boot on holiday. Gear ratios good (for me); although only three gears, again a good compromise for convenience of enclosed gear system. Braking good, so too stand & rack.

10 May 2016

Rated

5

out of

5

 by

Verified Reviewer

Top 100% quality

Thanks to Alperton Halfords staff for suggesting this bike. It feels very firm and fast, it's really good quality and worth every penny. Bit difficult to fold it up but it's actually works out in favor for a safety reason. Very happy with the purchase. Thank you

28 March 2016

Rated

4

out of

5

 by

becca7

A good option at an affordable price

This is quite a nice looking bike - it has had several positive comments. It doesn't fold up as compactly as more expensive folding bikes but it is a fraction of the price and I found it to be very good value. It's fairly heavy to carry. With small wheels it's not the easiest to ride but I have cycled 12 miles on it quite happily and could probably have gone on further but I'm very much a novice rider.

19 November 2015

Rated

4

out of

5

 by

Maksimka

Decent bike.

First of all , the staff at Halfords Tottenham Hale, where I bought it are fantastic! Thank you guys! The bike itself is a decent one. Good value for money. It also looks very good. The only downside is folding is not very easy. Its quite heavy and very much inconvenient to carry. So if you intend to fold it only occasionally , then definitely go for it ! Good, decent bike. I've been using it now for two weeks to comute from North to Central London. However if you intend to fold your bike frequently I wouldn't recommend this one.

02 October 2015

Rated

3

out of

5

 by

sbloke

Carrera Transit bikes x 2

Bikes are great. Halfords online reservation system is great Staff at your Swansea store were excellent. My only gripe is that the bike was meant to be held folded by some strong magnets on the axles, BUT these have been replaced by a secure ball and socket type fixing, these are very secure but you now have to slacken the handlebar clamps (with an allen key) to allow the bike to be folded enough for the ball to enter the socket. This makes the folding of the bike a bit more difficult and impossible to fold completely without an allen key.

25 June 2015

Rated

5

out of

5

 by

1Hannah

Great folding bike

A great bike, perfect for family bike rides. It took a few practices to get it closing quickly but now it is so easy, I'm very impressed.

23 June 2015

Rated

4

out of

5

 by

Ruark

Overall a Very Good Folding Bike

Bought this to be able to easily fit into the boot of my car. It is very easy to fold and is very sturdy . Would suggest if intend to use for long journeys then one with more gears maybe better but for general use the 3 gears have been fine.

17 June 2015

Rated

5

out of

5

 by

Courierguy

More than the sum of it's parts.

Believe me,trying to find a folding bike on a budget is no easy thing. Most bike shops look at you like you are out of the gutter when you enquire about them and shake there heads in dismay. "You'l not get one for less than £450 with hub gears" is all I heard, then I spotted this Carrera Transit Folding Bike at Halfords. I quickly went along to see it, not really expecting much after conversations with other bike shops. Well, what a surprise. It has everything and does everything I wanted. I was worried that 3 speed gears would not be enough but the ratios are well chosen and are plenty for most routes (we aren't talking mountains and Skipton Bank here) but best of all they don't clunk and grind, they don't slip or jerk, and you can change gear whilst stationary ( I will never have derailleur gears ever again). It only takes a 2 or 3 attempts at folding the bike to get the hang of it and can be done in seconds and it now means I can get 2 bikes in the car with out lowering the seats and ripping the upholstery to shreds with all the sticky out bits that bikes have. There are smaller folding bikes but they come with a hefty price tag. It's not the lightest but still easily manageable though I wouldn't like to carry it very far) and all the locks and attachments feel pretty solid and secure. Overall, taking into account the internal hub gears, the solidness, it's good looks (a few people have commented), it's ease of folding and it's price compared to others this is a great little bike ...... I bought one for my partner as well.

08 May 2015

Standard Delivery

£2.99

FREE within 4 working days on all orders over £30 (Halfords products only)

Next Day Delivery

£4.99

Order by 8pm for delivery tomorrow (Mon - Fri)

Named Day Delivery

£4.99

Choose your delivery day (Mon - Fri)

Saturday Delivery

£5.99

Order by 8pm Friday for delivery on Saturday

You can buy this product from one of our carefully selected Approved Partners. The full list of options available are below. Simply add your chosen option to your basket and proceed to checkout when you're ready.

You can purchase products supplied by Halfords and selected other suppliers on halfords.com.

Checkout is always via halfords.com and all payment will be taken via halfords.com. In checkout the products will be split into separate deliveries for each supplier.

Showing 1 -

X

of our buying options

| Price | Seller Info | Purchase |
| --- | --- | --- |
Commuting to work? Get the essentials..
Commuting to work? Get the essentials..