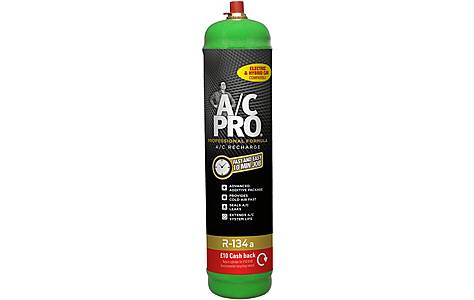 Description

EZ Chill Auto Air Conditioning Recharge

On average, an air conditioning system will lose 10% refrigerant a year! So no, you weren't wrong in thinking that it use to work way better back in the day. Regular maintenance with this

EZ Chill Auto Air Conditioning Recharge

will give your air con a new set of legs, ensuring maximum cooling and fuel efficiency.

It will require a gauge to operate so you can always order the re-usable EZ Chill Auto Air Conditioning Reusable Trigger Dispenser & Gauge if you're short of the equipment.

For plenty more info and some help using the product, including locating the air-conditioning low pressure service port on your car, have a nosey at the STP Air-Con website

www.stp-aircon.eu

EZ Chill Auto Air Conditioning Recharge Extra Info

Restores refrigerant and oil
Seals leaks in hoses, gaskets & O rings
Cleans system deposits
Improves efficiency
Advanced leak sealant
Acid & moisture sealant & eliminator extends the life of you're A/C
Please note packaging may vary

Additional Information

As of 1st April 2010 Halfords are required to provide a duty of ensuring air conditioning canisters can be recycled and refilled in an environmentally friendly manner. To comply with these regulations a fully refundable deposit of £10 will automatically be added to the retail price of this product. This deposit is refundable from your local store on return of an empty canister and a proof of purchase receipt dated after 1st April 2010.

**Click here to find out details of Halfords Air Conditioning Servicing**

Click HERE to view air con recharging instructions and legislation information.

Please be aware that this product must not be used on hybrid vehicles.

Warnings!

The above products are not suitable for application with Hybrid Vehicles. Customers with hybrids should use straight gas for their top-offs or take to a mechanic.

The hybrids mostly use electric compressors. These compressors need 'dielectric oil' that prevents electric current from reaching the exterior metal housing. The industry advises this is a serious safety issue as the electric power involved can be quite high and dangerous.
EZ Chill Auto Air Conditioning Recharge
Cat code: 264627
Free refrigerant level check.
Air con recharge only £30 & re-charge and clean only £40
Other customers who bought this also viewed
Reviews

EZ Chill Auto Air Conditioning Recharge

4

4

great

Works good my car is freezing now.Very easy to operate,I did it myself.

13 August 2012

Simple solution

Really easy to top up the aircon gas. Always thought it was an expensive thing to do. Clear instructions, completed the job within 10 mins. Cool!!!!

11 August 2012

money back bottle

great product, same amount of refridgerant as the EZ chill top up with built in meter but a lot cheaper. you need to buy the adaptor to fit the can but its yours for life and you get £10 cashback when you return the empty can.. Bargain

20 May 2012

Air Con refil

Halfords could give a better description of this product - the can is 18 oz or 530 grammes depending on how you measure these things which makes it a reasonable size. probably the largest on the market. It did make quite a difference on my 10 year old Volvo S80 and I did not need to use the whole can - there was still some left for my wife's Punto, but not enough to completely sort her newer air con out. As far as I am aware the air con on the Volvo had never been re-gassed or serviced.

04 October 2011

Other Buying Options

You can buy this product from one of our carefully selected Approved Partners. The full list of options available are below. Simply add your chosen option to your basket and proceed to checkout when you're ready.

You can purchase products supplied by Halfords and selected other suppliers on halfords.com.

Checkout is always via halfords.com and all payment will be taken via halfords.com. In checkout the products will be split into separate deliveries for each supplier.

Showing 1 -

X

of our buying options

| Price | Seller Info | Purchase |
| --- | --- | --- |