Super Seal Air Con Leak Sealant - For Gas R1234YF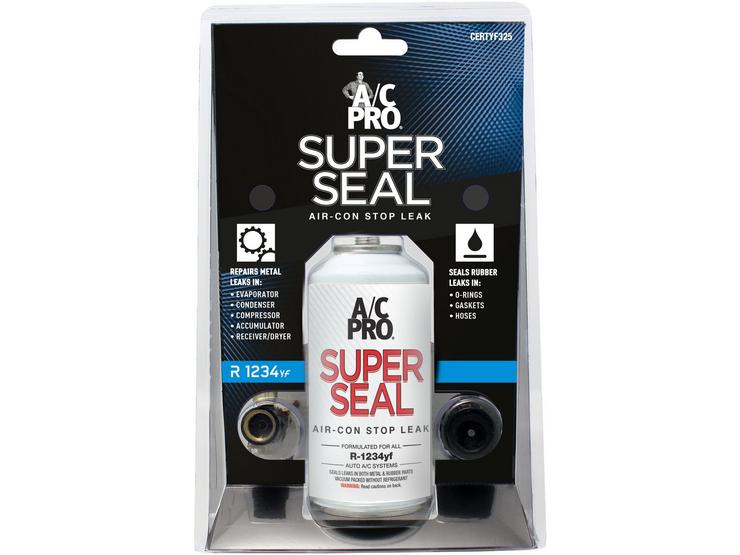 10 people are viewing now
5 purchases during last 48 hours
Super Seal Air Con Leak Sealant - For Gas R1234YF
Super Seal Air Con Leak Sealant - For Gas R1234YF
The A/C Pro Super Seal Stop Leak Treatment contains special sealing additives to repair pinhole leaks in the metal components of A/C systems and common leaks in rubber components. The built-in recharge hose with the push-button dispenser provides a no-tools solution.
Note: Immediately after using A/C Pro Super Seal on the A/C system, R-1234YF air con gas must be added.
Features & Benefits:
Repairs metal leaks in evaporators, condensers, compressors, accumulators, and receiver dryers
Contains leak sealer to seal common A/C leaks in rubber hoses, gaskets, and O-rings
Helps to eliminate harmful moisture
Recharge hose with push button dispenser included for an all-in-one solution
F-Gas regulations compliant
Compatibility:
Compatible with lubricants that are commonly used in the car A/C systems
Do not use with hybrid/electric vehicles
Instructions for use:
Within reason, this product will repair the small, hard to find, porous air con leaks on the Evaporator, Condenser, Compressor, Accumulator, Receiver/Dryer O-Rings, Gaskets and Hoses.
Important! Super Seal will not repair a visible hole or a split in any A/C components. Step 1: Using the R1234YF refrigerant with the colour coded charging gauge, connect the quick coupler to the Low-Side Charging Port, take a pressure reading then add enough refrigerant to enable the compressor to engage ("click in") Step 2: Swap to the Superseal product, connect again to the same low-side port and add the whole can. Shake well until empty and then disconnect the Superseal Step 3: Immediately reconnect the quick coupler of the R1234YF refrigerant with the colour coded charging gauge as mentioned above and carry on recharging/topping-up the system with refrigerant until the gauge needle stabilises in the BLUE zone
Additional Note:
Please note: The Super Seal product works very quickly, so to prevent the Super Seal from sealing the charging port the system must be recharged/topped up immediately
If you have a visible hole or a split in any component it will need to be replaced, the system pressure tested, vacuumed and recharged using professional equipment.
Hazards & Warnings

Warning: Flammable liquid and vapour

Warning: May cause an allergic skin reaction

Danger: Causes serious eye damage
: Harmful to aquatic life with long lasting effects